Erika Linder is not a peculiar model. She is special and also she is starting to rock the fashion industry with big and amazing jobs.
She was raised in a small town 10 minutes outside of Stockholm and she used to play soccer. This sport is one of the loads of them she was interested and is interested actually.
Music? is part of her life because when she turned 14 years old, she got an amazing guitar starting to play with bands and write music. The black keys, Thriving Ivory or Led Zeppelin are examples of her preferences every day
I could say that she is an artist, where creativity and the feeling to do more and more is under her skin. Why this?
She also acting for few years and now is modeling!
While she is doing this job, she also tries to represent something special in every job, without leave to acting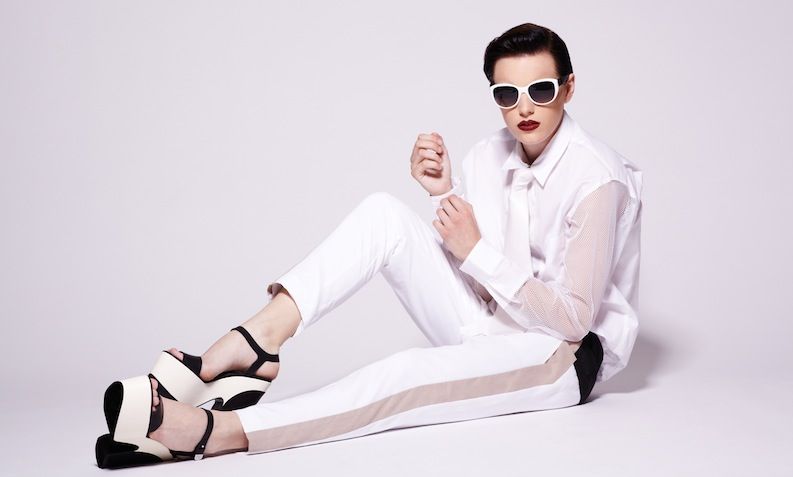 In terms of food, Erika is a lover of sea food with pasta.. Who doesn't like pasta?
This is a little brief about Erika, but.. Do you want to know more about her?
ERIKA LINDER
sBt-What do you feel when you catch your face into a magazine, newspaper…?
Is that feeling the one you thought was going to run through your body ?
The first time I saw myself in a magazine I thought it was a cool thing. A bit unreal, but then after a while you kind of get used to it and it's nothing really "special" about it.
If it's not for a certain thing.
The way I see it is that I always feel very thankful for it, even if it's a major magazine with a famous photographer or not.
Seeing yourself in a newspaper is completely different though, because then it's not about what you are wearing or anything commercial about it. It's about you. Therefore, it feels more personal and I don't think I will never get used to that. It's definitely a weird feeling. Good or bad? I don't know.
sBt- How did you start in this industry?


I was scouted when I was 14 years old at an outside concert. This woman came up to me and asked me if I was interested in becoming a model. I immediately just said "no" simply because I wasn't interested at all. I've always been a tomboy and when I was 14 I kind of though modeling was all about looking like a "commercial princess" so I was surprised that they asked me but then I just figured "what have I got to lose" so I just went with it, but not after years from that day and then it just took away from there
sBt-You are a unique and a special model in the landscape of fashion. Be original is a máximum for you?
Yes definitely, for sure. This is the way I see it. Let's say if I should go overseas working, pretending to be someone I'm not and then not get booked, because the clients can see if you're comfortable in your own skin or if you're just faking it. Then I would feel terrible and anxious because I was pretending to be someone I'm not. But if I'm just myself all the time, at least I can say that I did my best but this job obviously wasn't for me.
If they love you, they love you. I'm not trying to take it too seriously.
sBt- I'm pretty sure many people will asked you stupid things because you are very different to the rest of models.
Which was the worst one? Or the one you started to think.. Are you serious with that?
It happens a lot. Someone asked me if I used to take classes as a child to look masculine. I didn't know if he was joking or not but apparently he was straight on serious
.
Erika for Elliot Joseph Rentz
sBt- What is your state of mind? And your favorite quote?
My state of mind is to always keep my mind on the goal. It changes all the time but I will never lose my will to achieve what I want.
"Let everyone celebrate their lives whichever way they choose to live it"
sBt-When people offers you a job.. What is the most important thing for you to say Yes or NOT?
I'm always open for new things. Even though it's "just a photoshoot". What I do so different from job to job. One day it can be very feminine and the other day it can be really masculine. I don't want it to be just the other way around. I want to play with both as much as possible and keep a balance between them
sBt- Muse or candy are a couple of examples about your amazing job modeling.. can you tell me a bit about every of these jobs?
Candy was the first international job I did. It was shot in Paris by Kira Bunse and styled by Lotta Volkova. It was inspired by the movie Basketball Diaries in which I portrait into a young Leonardo DiCaprio. Even though it was my first editorial I've done outside of Sweden, it is still one of my favorites and most fun I've ever done. Leonardo DiCaprio has always been my top favorite actor and inspiration, so when they said I was going to look like him in a photoshoot I was very excited. It was also my first photoshoot as a guy. I have that photoshoot to thank for where I am today. So it's definitely my favorite one
MUSE was shoot in New York by Cass Bird. First, I didn't know who I was going to shoot with or the styling or story etc. I just knew that I was going to shoot for this magazine. So when I got there I met Candice Swanepoel so apparently I was going to shoot with her. It was great. Cass is an amazing photographer and I love her work. To be able to shoot as a guy, high fashion in New York is great. It just shows that fashion has no boundaries.
Erika with Candice for MUSE
sBt-I would like to highlight your work for Candy.. How was it?
Everybody knows the genius Luis Venegas is.. what do you think about him and his magazine?
Like I said, Candy was the start of my career. Not gonna lie. To be able to shoot as your favorite actor/musician is good itself but then to shoot as a guy, when you're a girl.. That's amazing.
Luis is a f*cking genius! He has this unique magazine that really makes people look outside of the box and then be able to make it such a success.
sBt-Do you have any dream to reach soon? If so, can you tell me a bit of this dream?
I have a lot of dreams. Right now I'm just focusing on my career and see wherever it takes me. I would like to get into acting more. I'm currently doing a project which involves a lot of emotions but I love it. It feels so natural to me.
sBt-To finish, I would like to read an advice from you to all the people that is reading this interview about you and are interested in Fashion..
My advice is to always be yourself and don't give up on your dreams because it's never to late to fulfill them. In fashion there is no boundaries and people can see beauty in everything but it is also very shallow and just be try to yourself and people will take you seriously
What do you think about the amazing Erika?
I guess she is a very intelligent girl, with plans and full of power.. don't you?
I would like to say THANKS to Erika, because she is fantastic and thanks to all of you!
I will upload Fashion Shows super soon! I have tons of photos I would like to share with you
David Martin
sBt