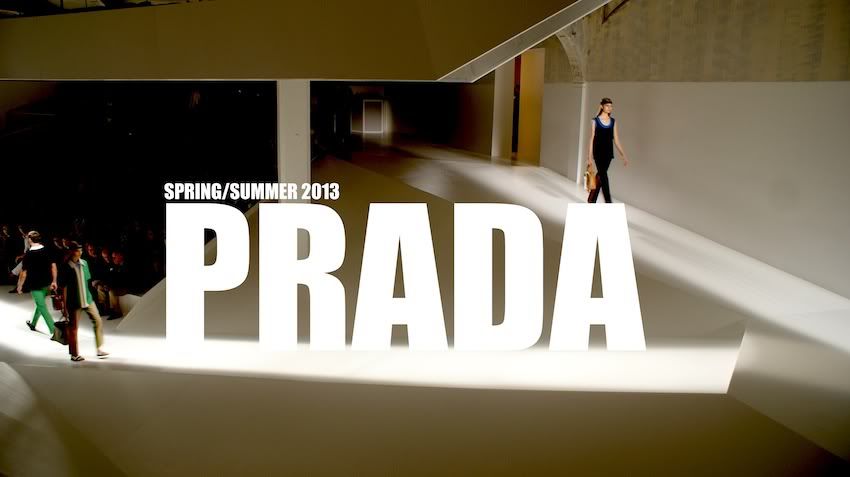 Another season PRADA was one of my favorite shows in the whole Men's Milan Fashion Week for S/S 2013
This show was special, always keeping the mystery around the inspirations, models into the show and the distribution of runway and this time, also women...
The most beautiful girls and tops paraded between the male models with Resort 2013 collection.. A sublime line making us feel a little bit the next and upcoming S/S 2013 collection for women.
Only remains 1 month but in the meantime, is time for them, for boys!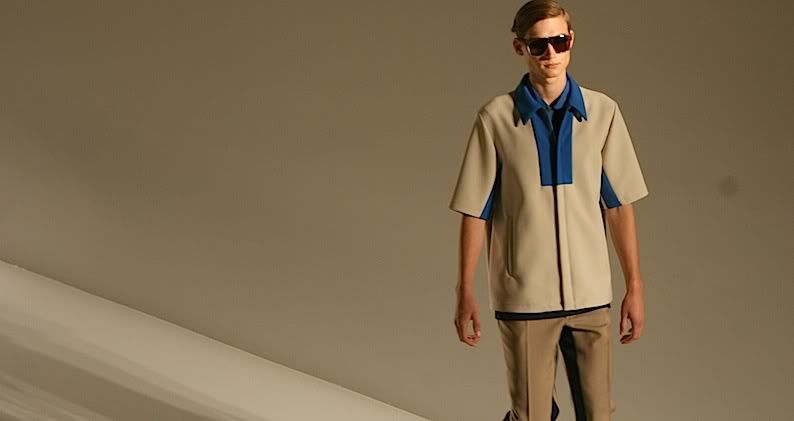 This show was full of pure lines, straight cuts and clean colors.
This is very different than last S/S 2012 collection full of brocades , prints and color BUT this is fashion and you will never know what is next, until these artist show you what's going on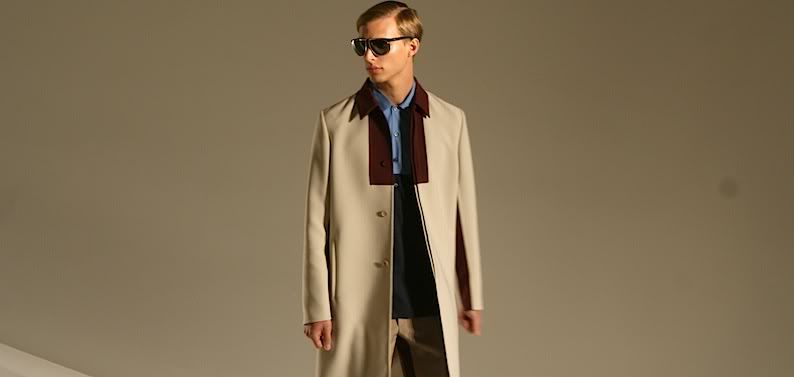 Naked color was the main color introduced in the first part of the show over jackets, coats, trousers and many accessories.
The fabrics you can taste are soft, easy to wear but keeping the shape into the man silhouette, without make you feel small or big wearing the pieces
Is very important to check the neck parts of every piece and the different compositions of colors and shapes around the collars.
The geometric draws with colors from mid trench to the top reaching the neck is more than interesting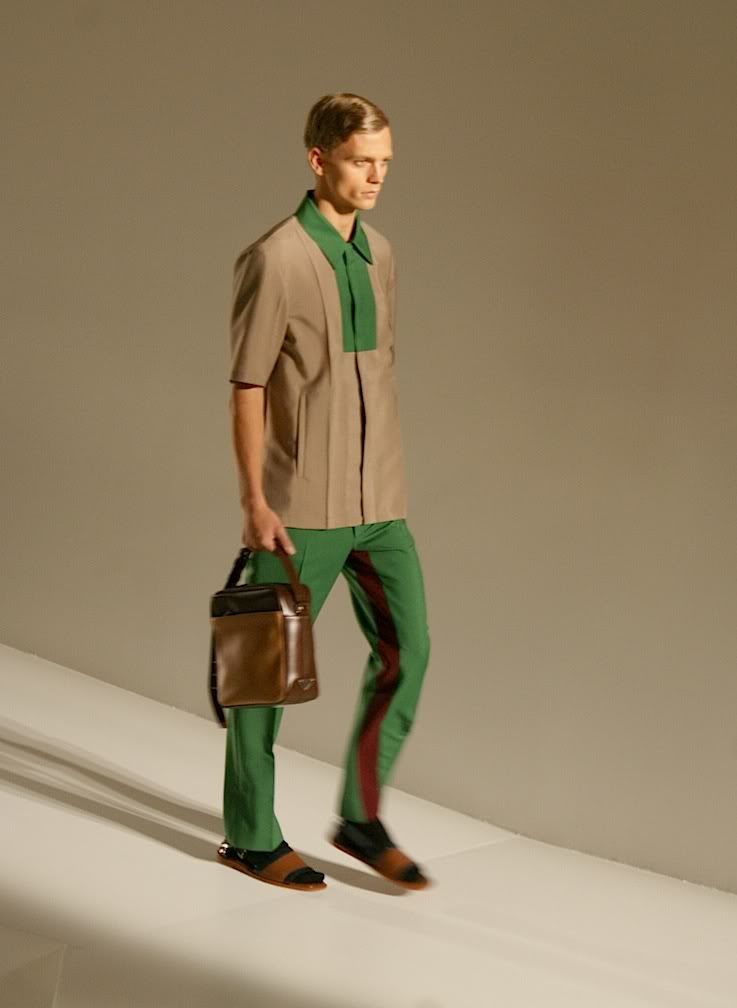 As you can see, there are many combinations in terms of colors and re-interpretations of t-shirts, shirts, coats.
Although is a summer collection, don't forget not all countries have the same weather in summer, is important to adapt this for that people and also they work perfectly for rest of the year so.. PERFECTION!
Look at the sandals with SOCKS!
This is a peculiar trend but very typical for many people from Germany, for example.
Around mediterranean countries this not so typical and sometimes complicated to understand but Miss Miuccia considers is time to get the northern trends to the rest of the world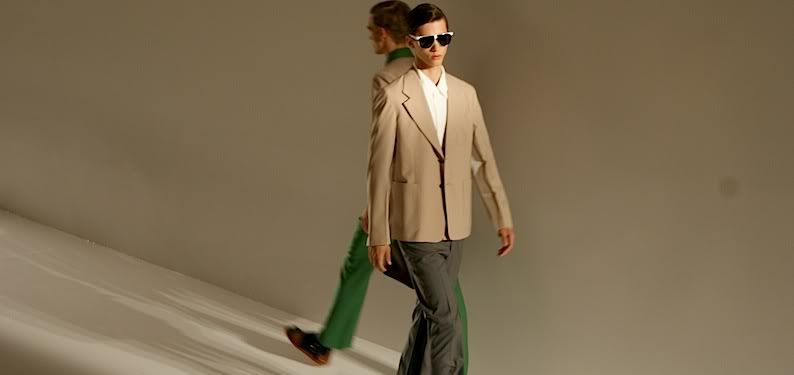 Another important point to catch up are the stunning sunglasses for next Spring/Summer 2013.
I'm a lover of these little friends and I think they are perfect for all kind of tastes and combinations of clothes outfits..
The shape is different, with a mix of colors and materials and also they make fitter the face, more masculine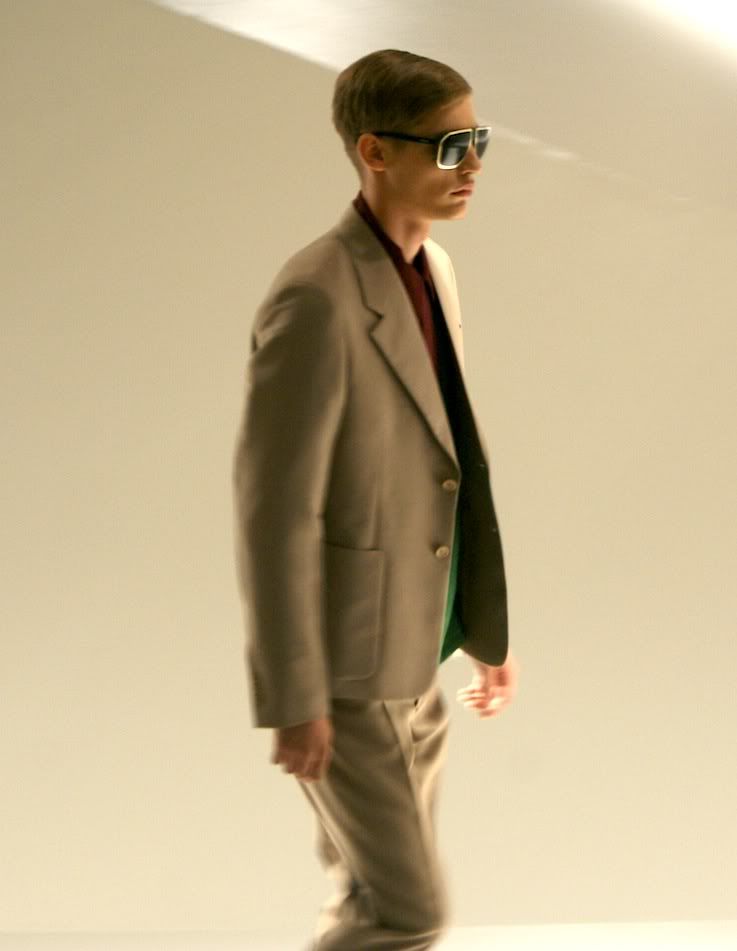 Baptiste Radufe looks sooo good with them.. I need one for next year!
Garnet with blue is another combination very important for Prada S/S 2013 collection.
Again is important to check the neck part of every piece and details like bags and stripes over trousers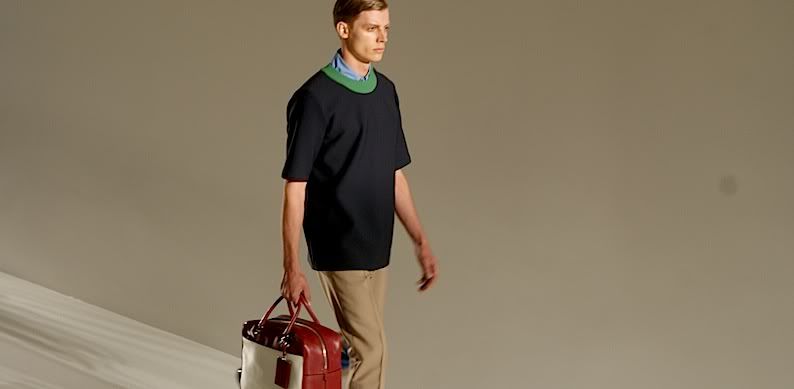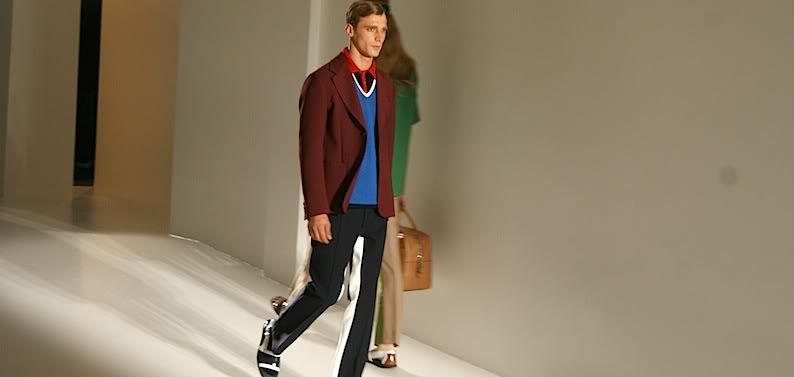 Look at the jacket is wearing Mr Chabernaud on this picture. It is brilliant, looks simple but believe me, that is so far from reality haha
Also for me, is super cool the whole outfit and I'm starting to love the sandals.
At the show I expected another kind of shoes, because I'm a lover of them as well and you know it, but I'm pretty sure these sandals are going to rock the next trends for all magazines around the world and people who love shoes!
This look is maybe one of my favorite ones. The big t-shirt under the coat is PERFECT and the color is beautiful in combination with white.
I'm a person who doesn't like to wear too much the bright colors so this is fantastic for me haha
Look at the shape this coat has and how it makes you look like! AWESOME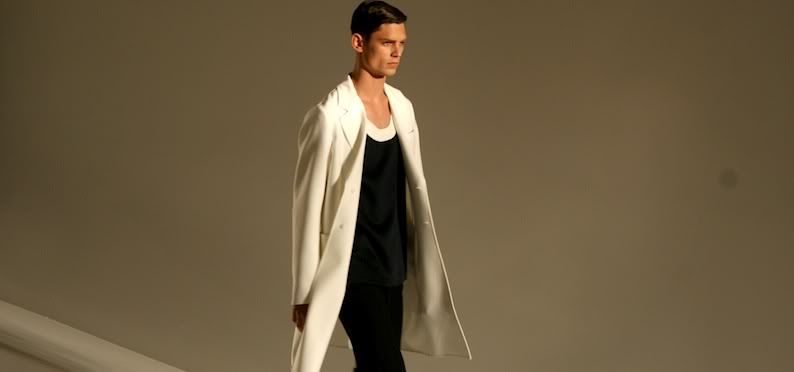 and HERE IS Arthur Gosse, the rising start of every show and Milan/Paris fashion Weeks, wearing the next consecution of colors by Prada.
Dark blue + white: NO WORDS! I have to be honest and say that I don't like a lot to wear white pieces because make me feel I'm a doctor, I only usually wear white t-shirts..BUT the piece Arthur wears with those trousers and t-shirt.. was made for me hha!
To finish, I would like to show you one of the last pieces from the show for S/S 2013 and maybe the piece that is going to be more sold around the world in the following months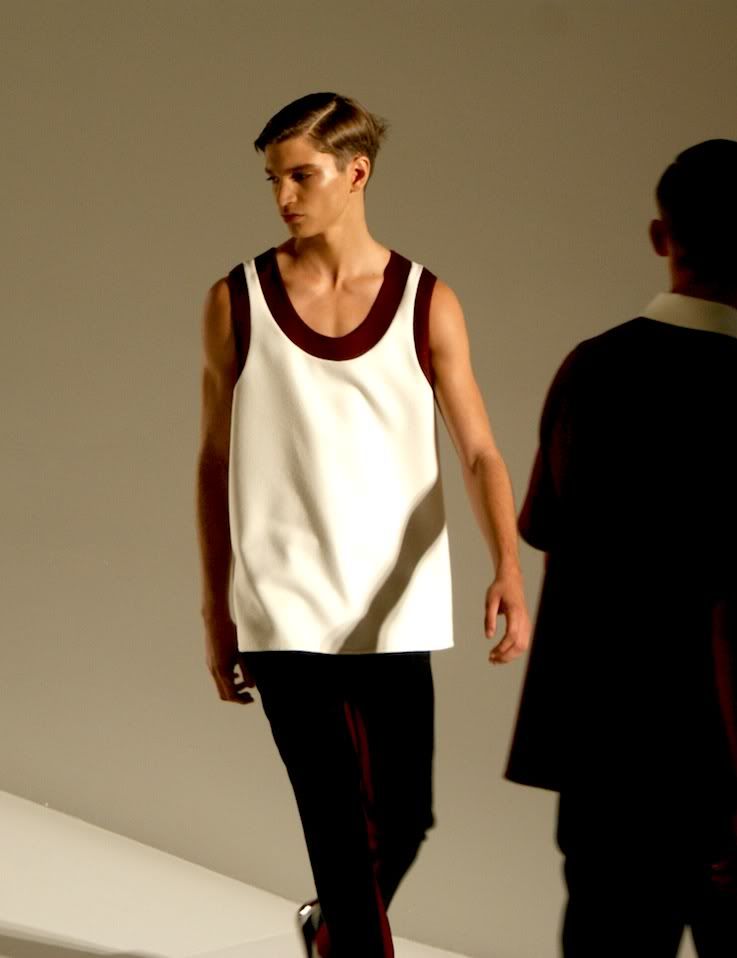 This simple and cool t-shirt is the correct way and marvelous for summer!
All tanning boys said "Thanks God" when it came out in the runway and I say, next year I will fit this piece as well HO HO!
What do you think about Prada S/S 2013? Is or not is amazing how to develop a collection like this, with loads of basic winks and at same time doing spectacular and desirable pieces?
Summer is about to end!! That means, chaos, stress , many things to do and non stop!
Fashion Week starts for me day 30th August in Madrid and after that straight to NYC for Fashion Week, Milan, Paris...
Also changes are coming for Sick by Trend :)
THANKS A LOT EVERYONE!
David Martin
sBt