Dior Homme is maybe my favorite show every season in Paris during the Men's Fashion Week.
When I arrive to the city after Milan, I always have to revise when Dior Homme will take place and start to think: How this season will be?
For next Spring/Summer 2013, Dior is BLUE
Kris Van Assche bet for this color in the most part of the collection, playing with this tone in all the pieces for next season.
Suits, T-shirts, sweaters, trousers...They are pure blue and always keeping the clean style of Dior Homme.
Mr Van Assche has developed the perfect re-invention of blazers with 6 buttons giving a fresh way to this kind of style.
The tone of blue is dark, almost black and this is the perfect feature for keep the elegance.
I really admire the perfection of cuts and necks. They are spectacular and make me think in how cool they would be next summer in my body haha!
This guy is a new face. His name is Karl and he made loads of shows this season.. don't forget his face!
I do and more if is this one by Mr Van Assche for Dior Homme. The mix of fabrics between the bomber and trouser is perfect! Sport and chic.. what else do you need?
Of course the volume it has is AWESOME! I have an special love for volumes over jackets and coats, no idea why but they make you look good!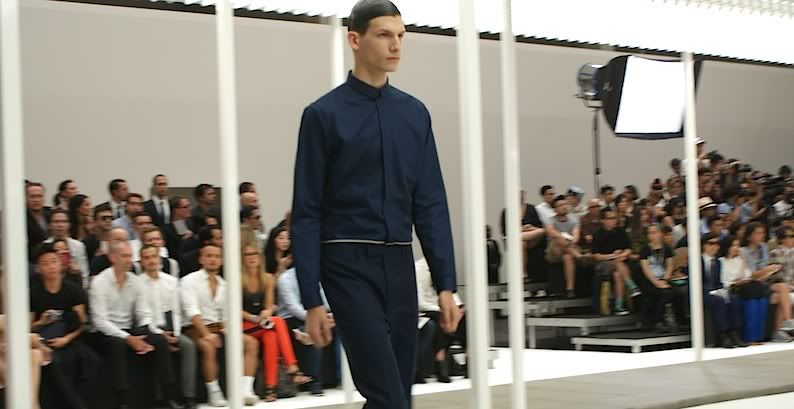 In this picture, you can start to see what Kris Van Assche is going to introduce in terms of colors.
The mini stripe in beige introduce the 2nd step of the collection and change a bit the style.
Mr Alex Beck wears the combination of change! Also not only the colors give another step, the outfit style show the fresh and young style of this Dior Homme S/S 2013 collection.
I really like how works that t-shirt with trousers. They are usually the same every season, with differences in terms of fabrics and maybe cuts, but they always are defined and perfect
Look at the buttons over the shoulders! cool right? always keeping the military way hehe
There are another 3 features to talk about. The first one is the awesome grey outfits with black
Grey is one of my favorite colors as far and this coat.. NO WORDS!
It is classic, long and special. Everybody could wear it without problems and that is a very important point right now.
The combination with the black t-shirt is perfect, the same than grey trousers
Another feature, is for sure the most written here on my blog haha!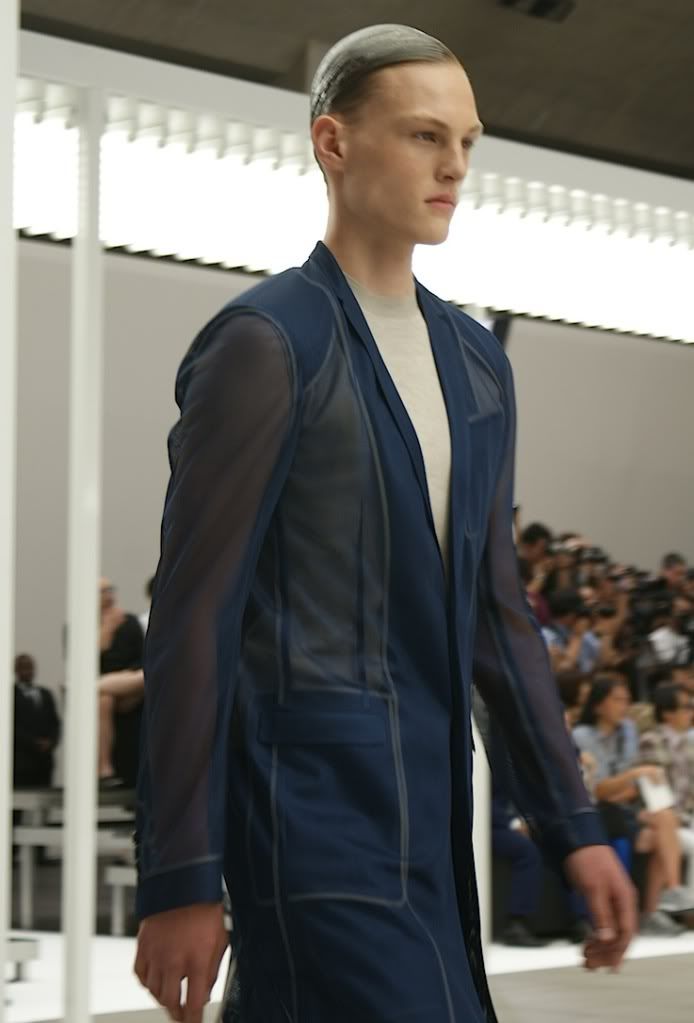 Look at this trench! The sleeves and back is made under a transparent material, leaving open what you wear under the trench and giving a super cool way to trench for summer!
It is fresh and I LOVE IT! what do you think?
Check the face of him.. is going to be a huge model soon as well!
To finish, the main highlight of the collection under my opinion
RED NECKS UNDER BLUE PIECES
This combination left me without words. It is beautiful and the intense tone of red special.
I have to confess don't like too much the mix of these colors but when I saw in the runway this proposal was like WHAT?
He is Rafa Bodgar! A future top who made more than 9 shows this season!
and...What about shoes? hahaha! No pictures but I have to say they are amazing! I special like the black ones with details in red :)
What do you think about Dior Homme?
Do you like the new collection?
I'm impatience to discover the new collection in january haha! I look like a crazy man, I know but...
HAVE A NICE WEEKEND AND THANKS EVERYBODY!
David Martin
sBt