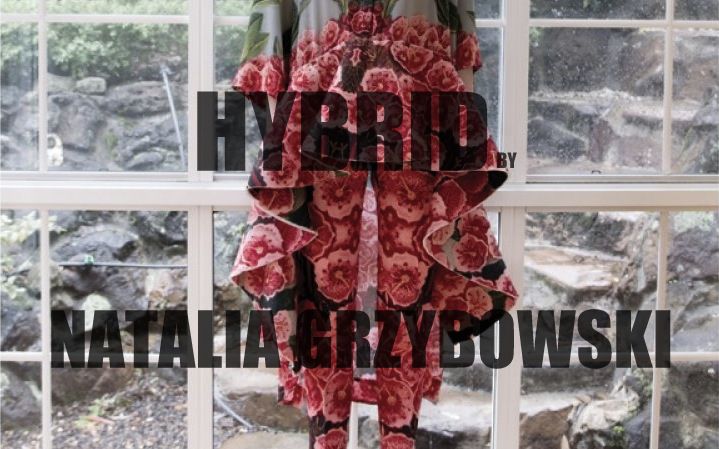 In Spring and Summer you may be and you can live two different sides of life and way to dress..
The simple cuts and shapes combined with the most different and amazing textile technologies are a huge example and that is what Natalia Grzybowski wanted to develop in her S/S 2012 collection.
When I saw the collection, I could feel like inside a botanic garden! It is like explore another world inside the Fashion Industry and in the same time, give you ladies the chance to wear something suuuper cool and new!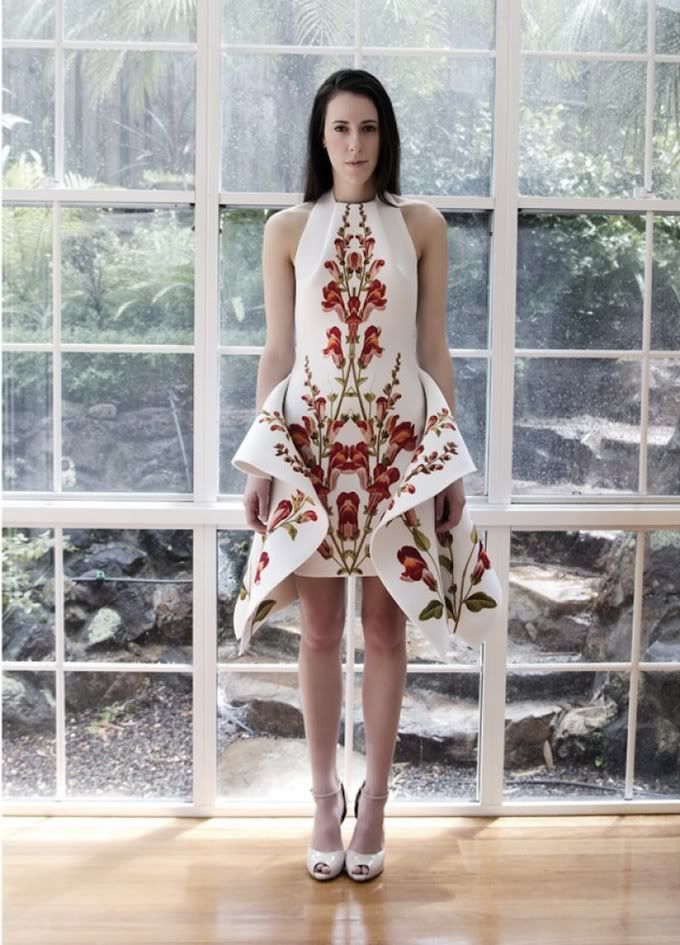 One of my favorite things in this collection are the shapes you can find in the basic silhouette!
For me they are super cool and make this dress something structural and beautiful.. it is like the garden starts to grow and grow haha! What do you think?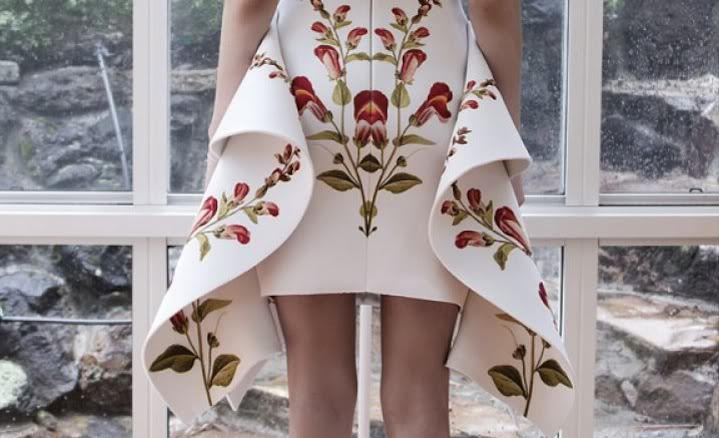 I really like to observe the back part of every piece when I go to any presentation, Re-see or something... They are sometimes something suuper beautiful and the retail work innovative and gorgeous.
Do you check the back part of pieces during shows etc?
Talking about back, there is a piece I specially like with shape of jacket!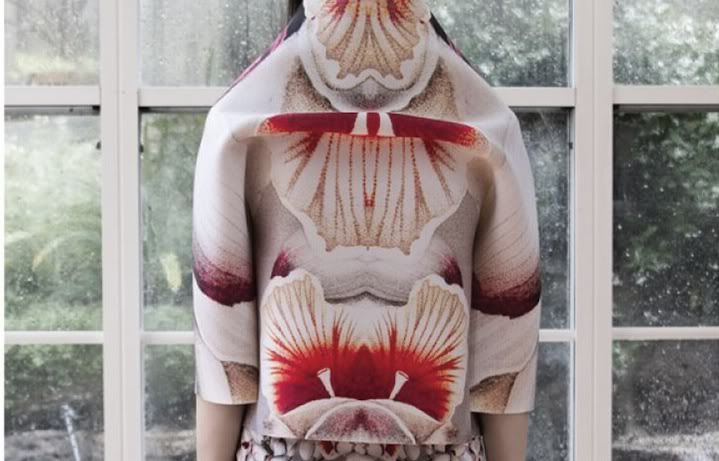 I'm not pretty sure what the fabric is but look at the neck part! It is like a huge petal starts to develop from inside to the rest of the flower.. well, maybe I'm freaking out with the description but it is super cool no?
At least different and special it is and also the idea she wants to express is perfectly reflected! When you close your eyes, what kind of print you may imagine talking about botanic gardens?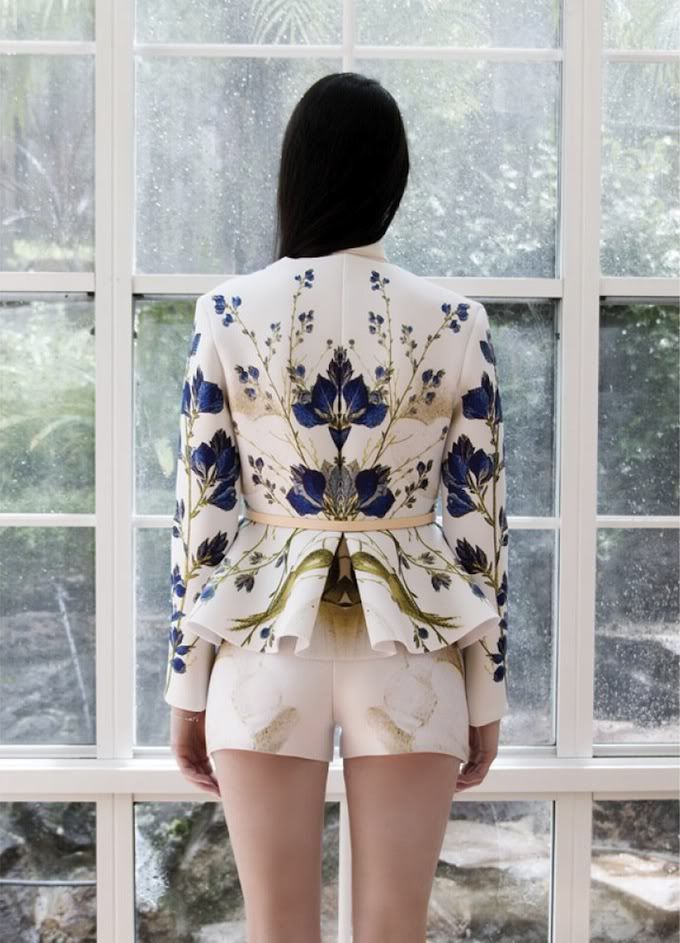 Another basic piece for summer and in special for you ladies, are shorts! In denim, neoprene, different gamut of... that is not important, the important thing is to wear them!
I think these shorts are perfect and most in combination with this jacket.
The re-interpretation of the currently cyber-organism from women is what Natalia is trying to tell.
Another point important to check and for what I say I'm always trying to discover the back part of different pieces is because the story that clothes is telling you from back, could be another super different at the front side!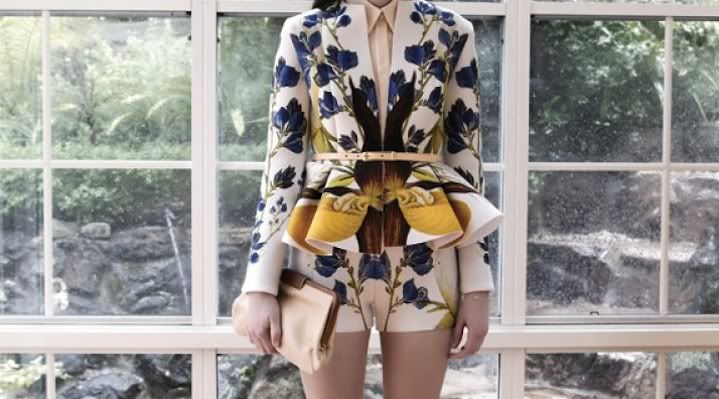 What do you think now? It's super different right? I prefer the front one! is super beautiful and in combination with that naked blouse, 10 points!
I think you know I'm a huge lover of prints and most if they are another sense, something like hidden, not very usual and forbidden
I remember an amazing collection by Ana Locking, a Spanish designer, where all the prints were red blood cells, nervous systems...I will not forget that spring/summer line.. was super amazing!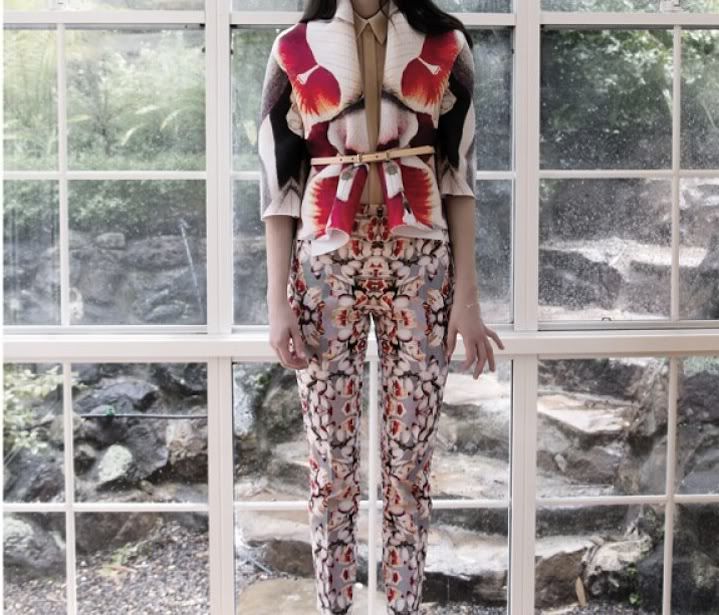 Ana came to my mind when I saw these trousers because although they are petals, make me feel the same feeling I took during the Ana's show and I'm sure many of you are impatience to taste and wear a piece from Natalia collection or I'm wrong? haha
I think everybody should put their eyes over new designers.. They are visionaries, the future into the Fashion Industry and those ones could start to make dream the world in few years!
What do you think about Natalia Grzybowski's line? and about new designers?
THANKS EVERYBODY FOR BEING HERE!
I'm having days full of things to do and traveling a lot. Hopefully I will take some time to be here during this week!
David Martin
sBt