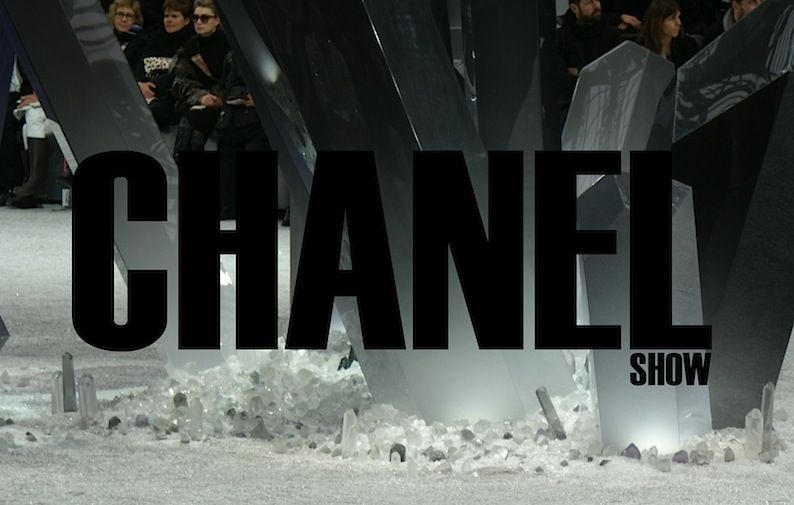 This was the last show I attended during women's Fashion Week and also the most amazing one I have ever attended before in the amazing and beautiful city of Paris.
Everybody knows how are the shows of Chanel and the spectacular performance Mr Lagerfeld creates every season and every collection.
I can't express what I felt when I get inside the Le Grand Palais, next to huge kryptonite in violet tones and a floor full of mini crystals.
The collection for Fall/Winter 2012-13 has loads of mixes and compositions talking about fabrics and materials.
All of them are in a high quality and Mr Lagerfeld tried to develop in every piece the most impact way without losing the sign of Chanel.
The violet color is very important in this collection! Loads of pieces are made in this tone and here you can see the amazing leggings with this color! Love them, and you?
Without doubt one of the most important details for this collection are the spectacular shoes!
The heels are like huge minerals in transparent methacrylate with different tones: blue, emerald, white...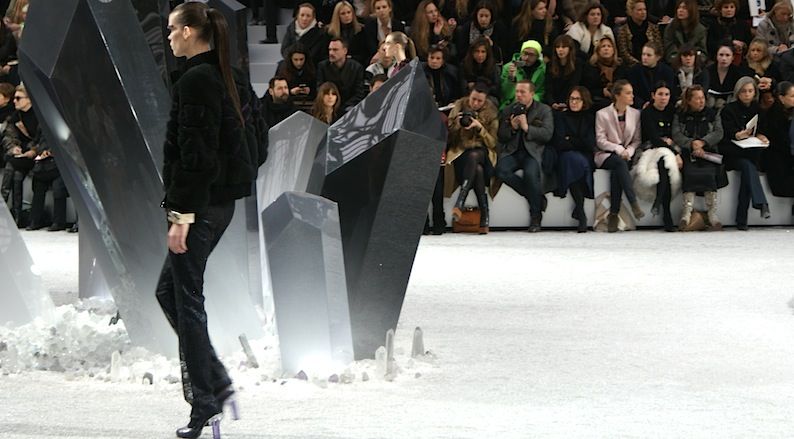 I really really like the innovation in soles and heels and the designers are working on this are in my opinion, artists! I think is time to make accessories something own and super personal and Mr Lagerfeld with these shoes is what is doing no?
Also the frontal shape is important to highlight because half is naked and the other one with the leather!
In this collection is important to highlight the color black..It is the perfect background for every piece inside a collection and of course, it always looks good for everyone!
For next Chanel Fall/Winter 2012-13 black is basic and the little details in gold over this color is something stablished too.
Here are more examples of outfits with black and at the same time pieces with gold! The superposition of clothes is something basic for Karl Lagerfeld and as designers like Armani or Riccardo Tisci, he considers it is a new trend everybody should follow.. clothes over clothes.. no more cold! haha
Like the first leggings, here are the ones in a gold version, as you can see, is a basic for Mr Lagerfeld!
But there is not only the gold as material over the black pieces.. brocades and gorgeous details over dresses are one of the most amazing pieces in the collection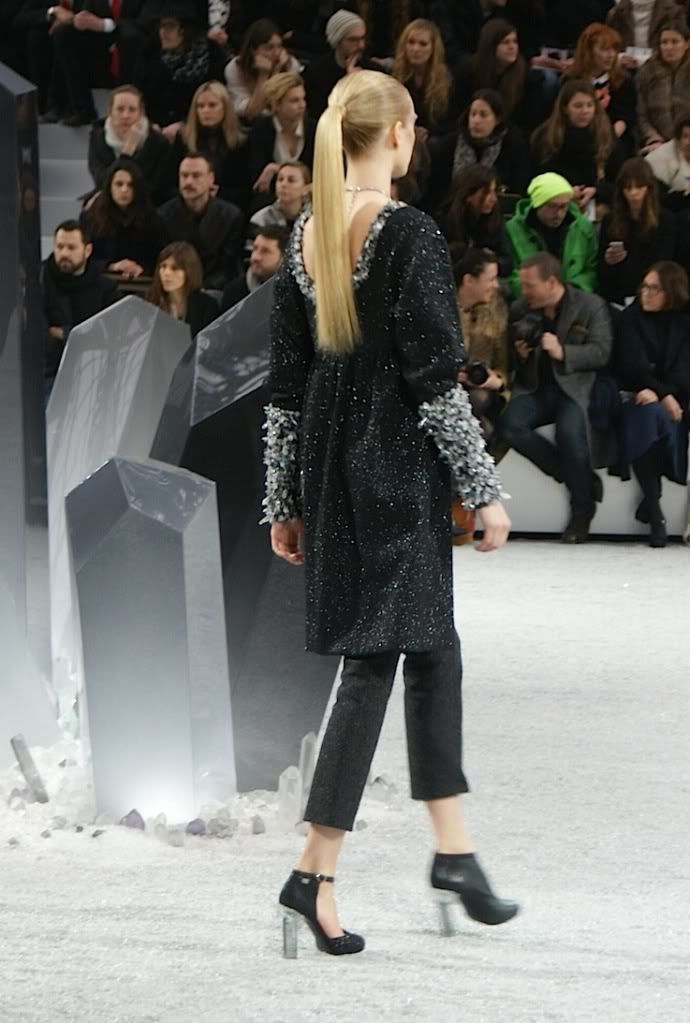 Look at this awesome dress with all the silver details over sleeves! I really like this outfit and you ladies, would look stunning wearing it! don't you?
The cut in the back is also super sexy and it makes a wink to the modernity and the new women of Chanel!
Leaving black, we can find outfits where appear multitude of colors in shapes of mini ponchos, dresses, capes..
Karl Lagerfeld made a mix of ideas in the same way and that is very cool.
For example the next outfit made me feel I was in Mexico!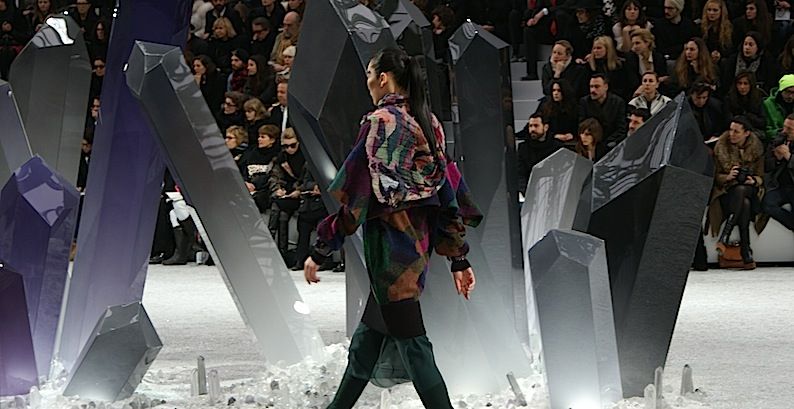 It looks very Mexican, or maybe it is the way only me can taste haha! I don't know why but I feel that. Also Asian winks with the gold details, Parisienne details.. super beautiful!
Among the colors to highlight leaving black.. there is one special and beautiful over the most of them.. the emerald.
There is a blouse that describes perfectly the beauty I'm telling you and at the same time, the material is one of my favorites.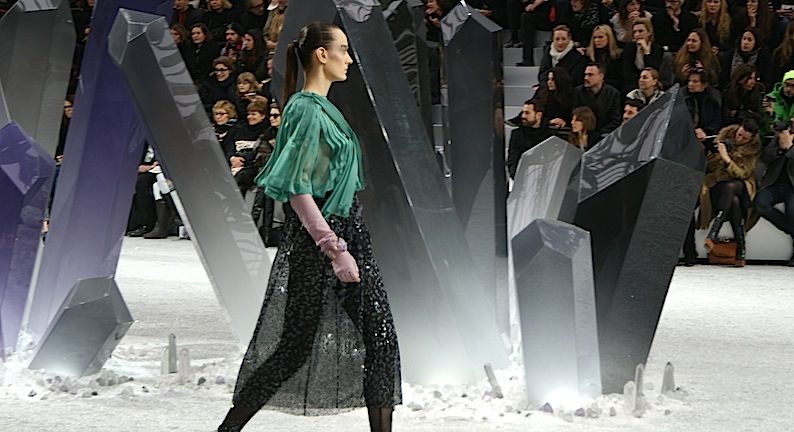 Super gorgeous right? What do you think?
It maybe could seems super basic but the cut and shape makes this piece something unique!
The skirt with those leggings is the perfect combination and also I can imagine this outfit for summer, without leggings coming to a party, cocktails..highlighting the feminine silhouette!
I can't finish the post of Chanel without introduce you one of my favorite pieces in this collection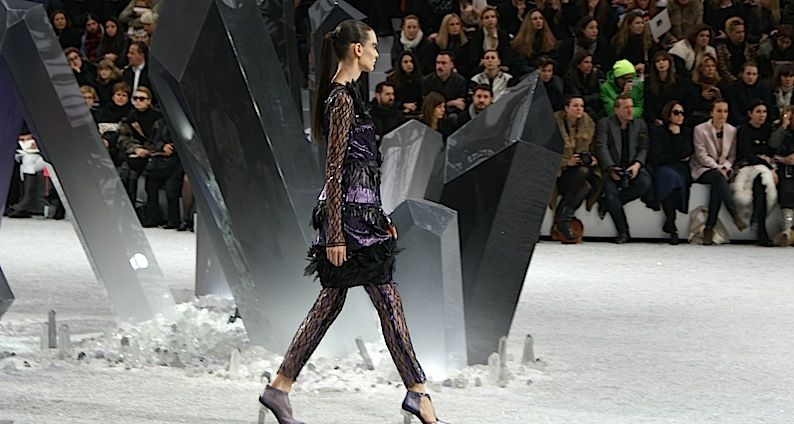 The feathers among the spectacular details over each part of this outfit and the beautiful purple, made me feel what Mr Lagerfeld creates in every collection.
Maybe if I had seen this dress in a picture and not in person, I had said not sure if I like it, but when you are there and you are able to taste the way and the idea in front of you, everything changes!
Ah! there is a super cool detail in make-up!
Eyebrows were absolutely covered with mini crystals in emerald color, purple.. That was different and in a big contrast with the rest of their faces, without lot of foundation!
What do you think about Chanel? and about Karl Lagerfeld?
I wanna say THANKS for reading every post of Fashion Weeks and sorry for delay...but I didn't want to be so heavy and at the same I didn't have time!
THANKS A LOT!
David Martin
sBt