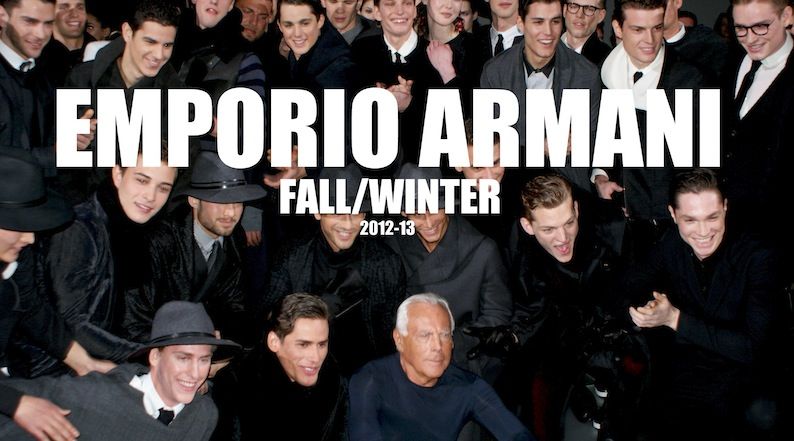 The 1st time I attended an Emporio Armani show was exactly a year ago and trust in me if I say that I feel the same than the 1st time I was inside that Armani Teatro.
I really admire Armani because he is able to develop 6 main lines with amazing differences and all of them with a defined line of people.. that is extremely amazing and so difficult.
I don't know If I wrote this already in my blog but is the true!
This time I was in Armani Teatro to attend the Fall/Winter 2012-13 show during men's Fashion Week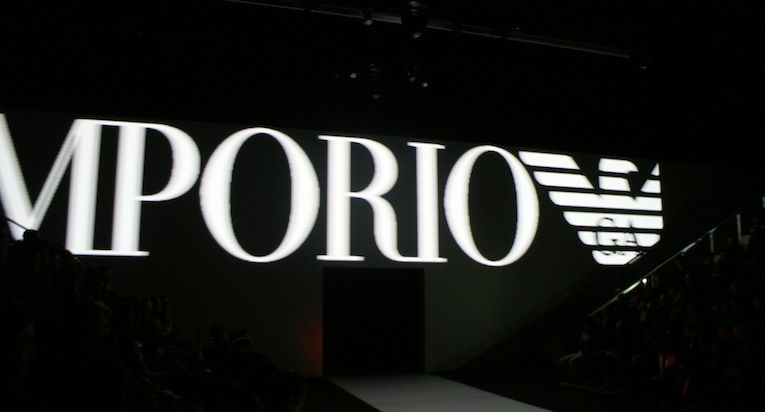 The location is the same each show but at the same time very very different: the introduction, the lights...
Arrive there is crazy because of the much people attend the show and always is fabulous see there my friend Nicolas and the fabulous Maria, both working for Armani.
The Fall/Winter collection is full of winks I specially like!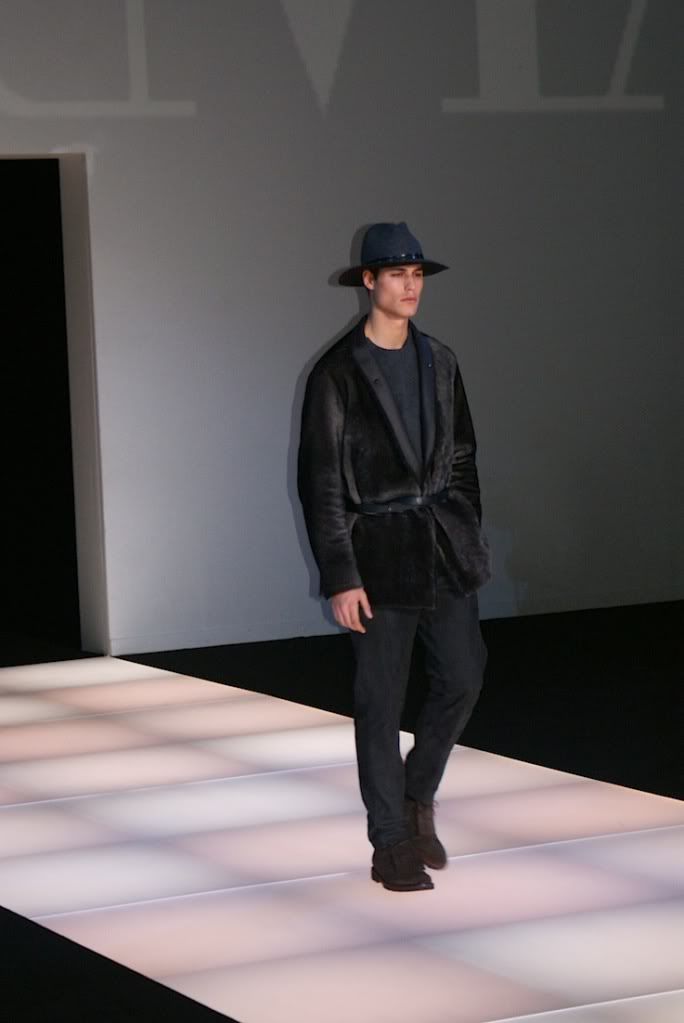 Here you can see one of them... HATS! hah
Yes Yes! I really really like hats and the trend for men I think is a very good one! and the best thing, in a very big size!
Also is important to make an innovation in shapes and that is what Mr Armani made and proposes to the world for next season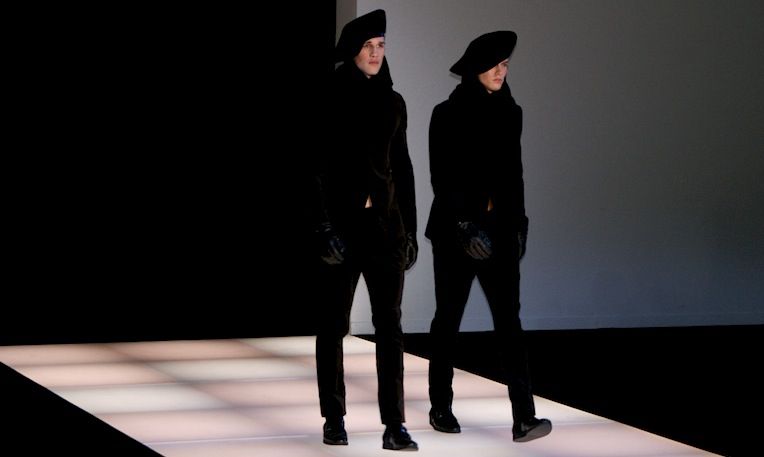 This kind of hats are very cool! What do you think?
Please, love them and you should make your boyfriends love them too haha!
Another important point in the Fall/Winter collection are the spectacular bags for men.
The size is the main point I want to highlight like with hats. If we have to use bags, they should be big, no? and also with big handles! For traveling is very important and comfortable!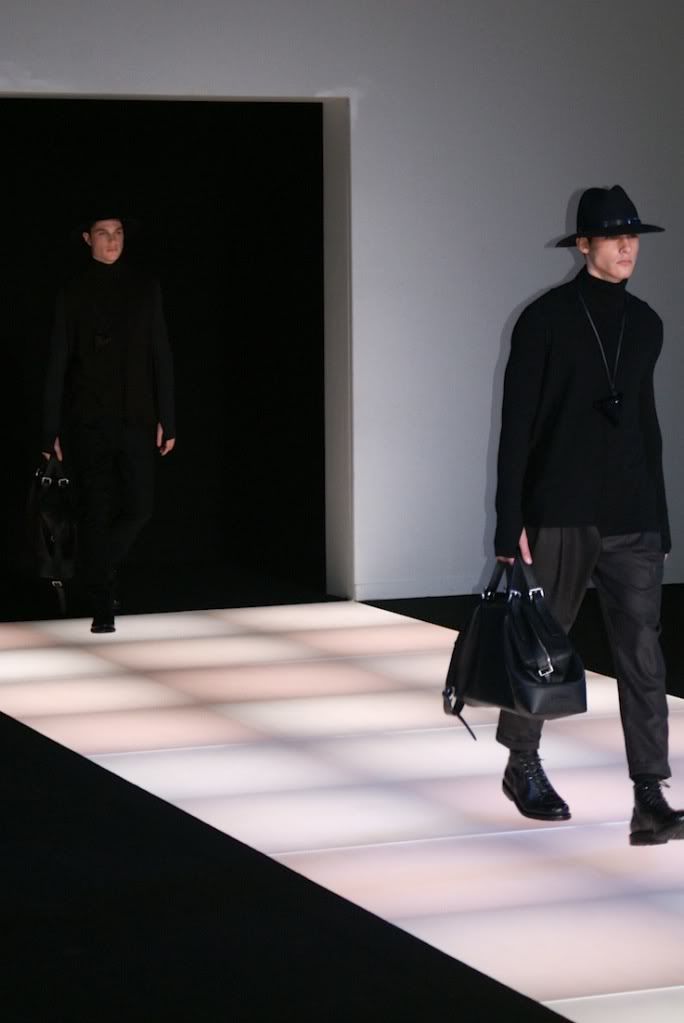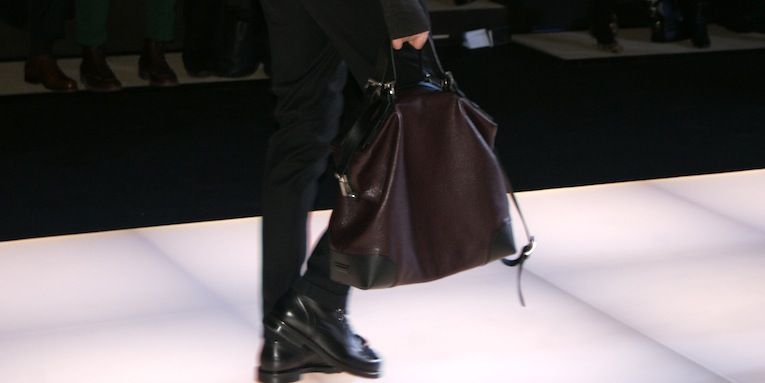 Black, garnet, white...are examples of colors for bags!
My favorite one is that one in black and of course, this one in white: IS AMAZING!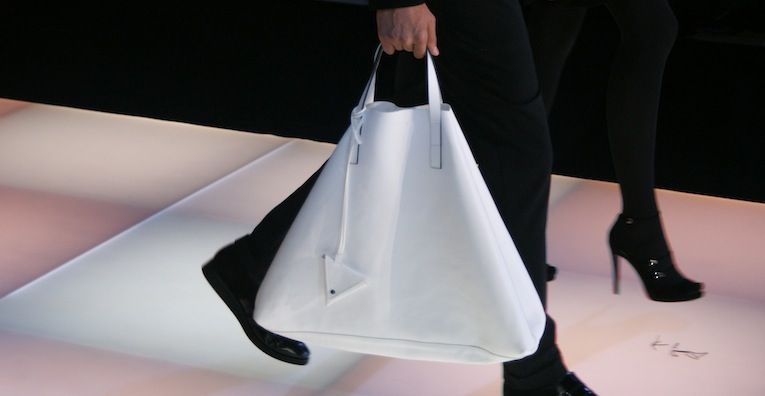 Of course one of my addictions in all the Armani collections are shoes, and the ones in Emporio for next season are amazing as usual.
They look like moccasins but with another kind of sole and modern way.
I really like the dark dark black and how beautiful they look and they are, of course!
Talking about colors, as you can see in the pictures, the black one is the most important in the whole line.
I think black is the perfect color of Fall/Winter and also very elegance!
The suits of Emporio Armani are always a sin and trust in me, if you need, want or are thinking to get a suit.. go straight to Emporio!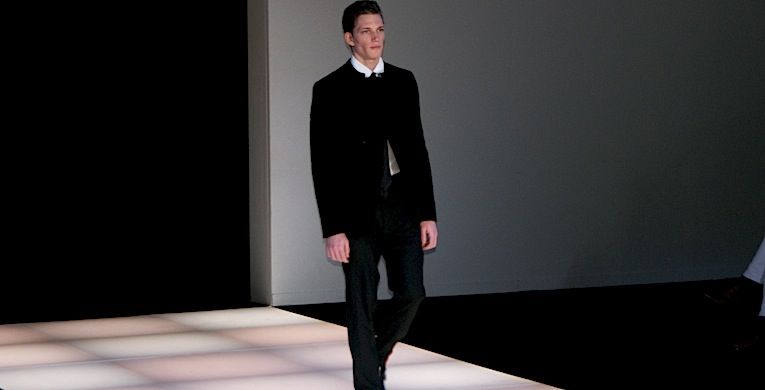 Here is Florian Van Bael, the face of Emporio Armani who is wearing an amazing outfit in black and white. I really like the neck, what about you?
I have to confess I always was not very receptive to wear total look black but my idea has changed and I consider it is the absolutely perfection!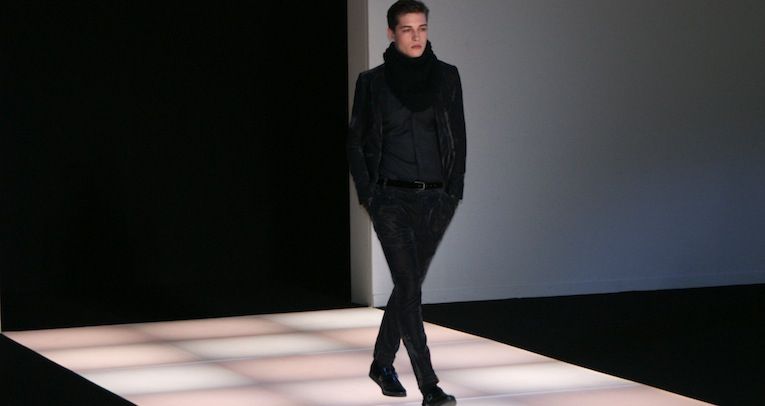 I know that depends the tast of each one and some people will think for sure that I'm crazy thinking in this way but haha that is the most beautiful thing no? each one have our own idea and style :)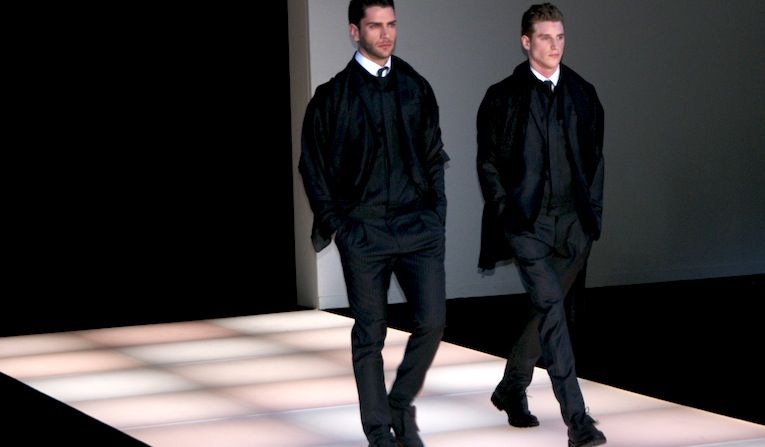 Also gloves and dark blues are in the collection for example represented in big coats perfect for cold and those months you think a lot if go out or stay at home haha!
Talking about the coat in a dark blue, look at the cut and the mix with black inside of him!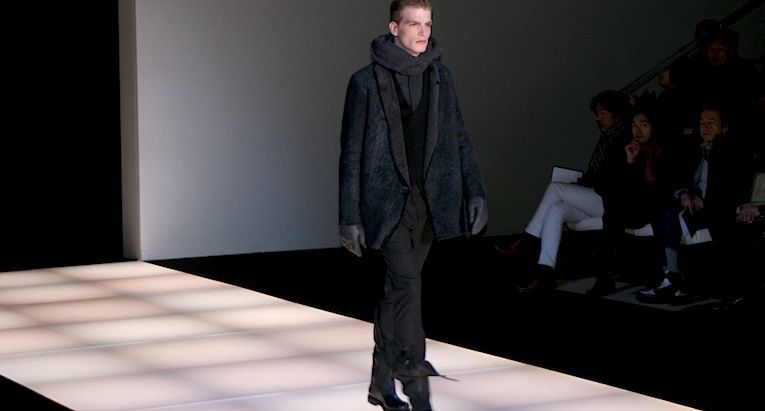 To finish, I want to highlight accessories like sunglasses and ties. I think and I always say this haha, the accessories make the outfit and is very important the way you want to create that!
Anyway I never wear accessories haha because I really like the basic stuffs for myself :)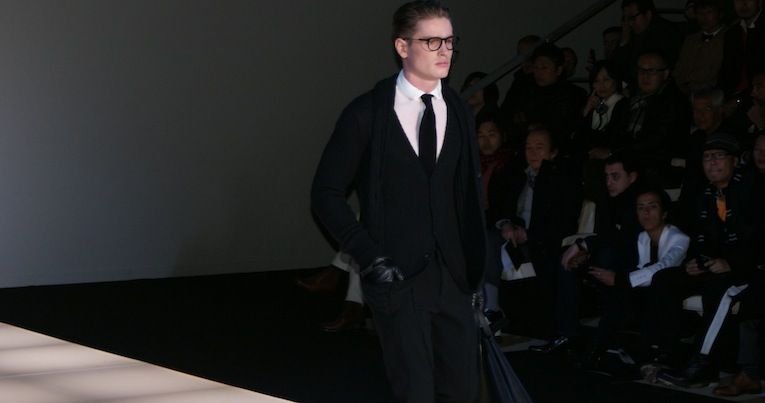 When the Men's shows of Armani finish, all the models always wait there and in this way the photographers can take photos of the collection, models and Mr Armani.
That photo is the one I chose for the header of this post because of the face of my partner, the other ones and Armani. LOVE this photo.
What do you think about the collection?
What is your favorite outfit?
This Tuesday starts a crazy weeks of work and trips for me. 1stop: Paris for some meeting with ODDA and then straight to London Fashion Week and work for ODDA.
After that an AMAZING TRIP WITH GUCCI to Milan for the shows and then to Florence for the museum and back to Milan and Paris for Fashion Week!
I'm impatience to show you my travel with Gucci but before I have to tell you loads of things from Paris, for example the crazy Dior Homme show!
I have to say sorry if I can't be here as usual during these weeks but I promise I will do my best :)
THANKS A LOT!
David Martin
sBt