Just landed in Madrid and after 13 days of Fashion Weeks in Milan and Paris here I am to show you some of the shows I have attended and how spectacular were all of them!!!
I only can say A MA ZI NG!
I really enjoyed working everyday there and know all the people I knew. To me go out is something extremely important and back feeling WOW! and full of power is very cool!
The first show I want to show you and not only the show, if not also the backstage is
FRANKIE MORELLO!
Believe me! this team is absolutely amazing, young, fresh and cool! I think there is no one who doesn't want to work with them!
Upon arrive to La Pelota, the venue where Frankie always make their show, I could see the test show!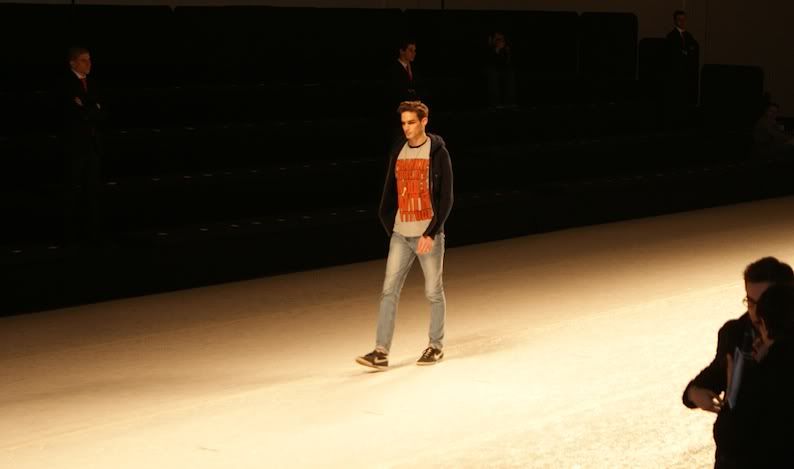 It was very cool because I've never attended something like this before! Also check the t-shirts!! Each season are different and with funny quotes!
After that, was time for Backstage! There was all in a good environment, young people and of course the best chance to discover what everybody will discover in the runway 1 hour later!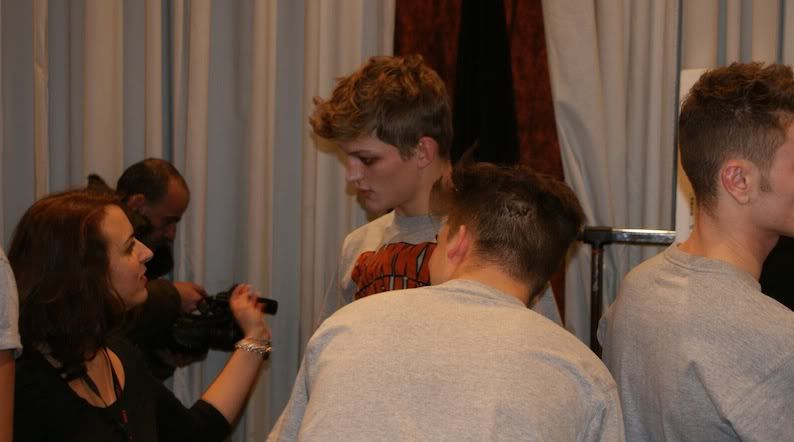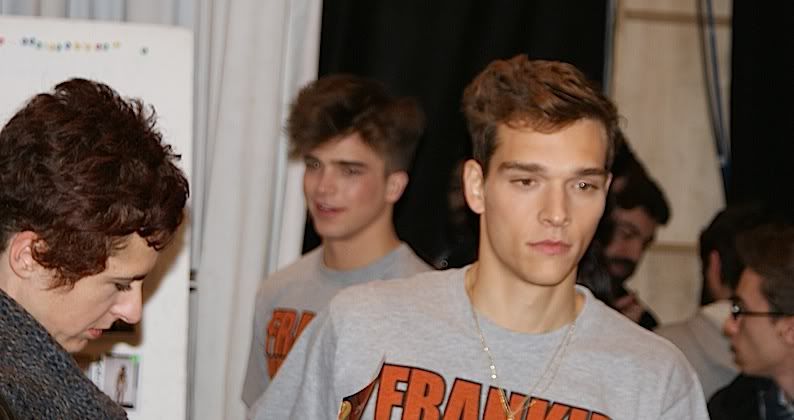 Photographers, make-up artists and models were there and of course, Seb, my partner and friend doing all the interviews as possible haha. He always is trying to talk with everyone!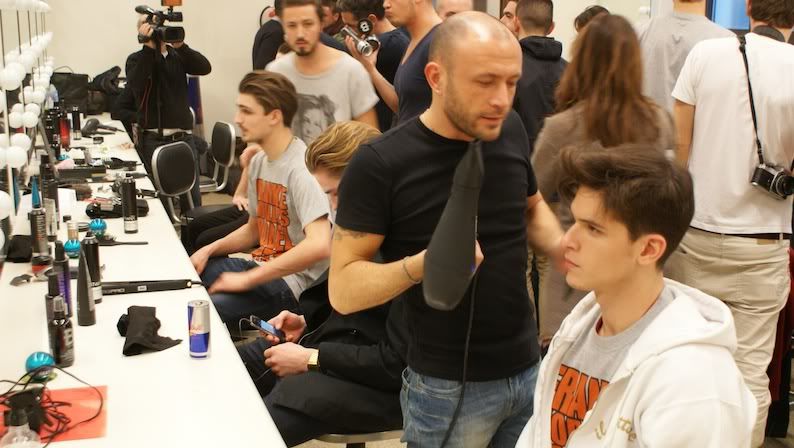 One of my favorite things in a backstage is check the polas and the order of looks haha
I don't know why but I always have to go and check the panel haha! I'm crazy, I know! but I have to say my partner Maria always has the same problem!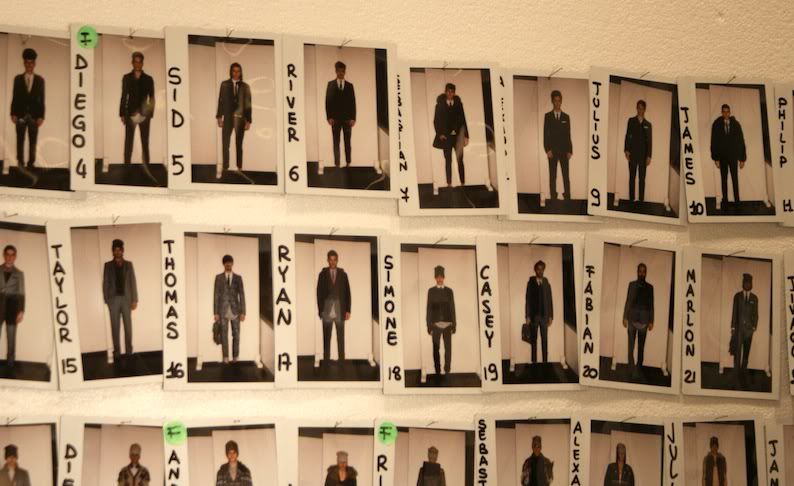 and then... THE SHOW STARTED!
with a special feature: Live music with the peculiar model Benjamin Dunkan! VERY COOL!
Jacob Coupe was the model who opened the show and check with what jacket!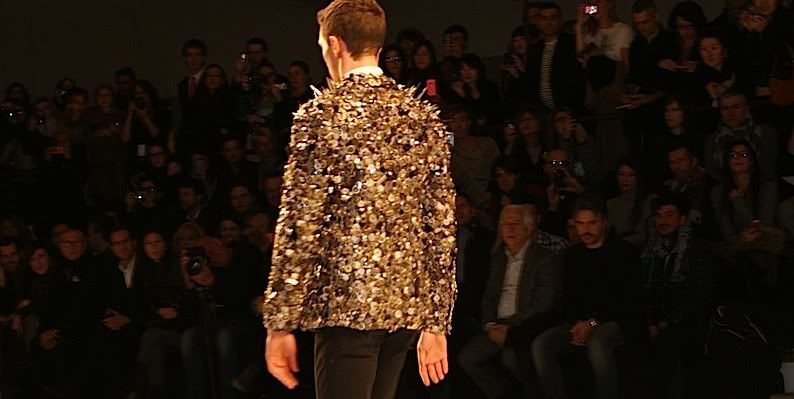 When I saw this first piece was like OK, the collection is going to be spectacular as usual!
Pins, lot of metal, silver and gold tones... LOVE IT. What about you?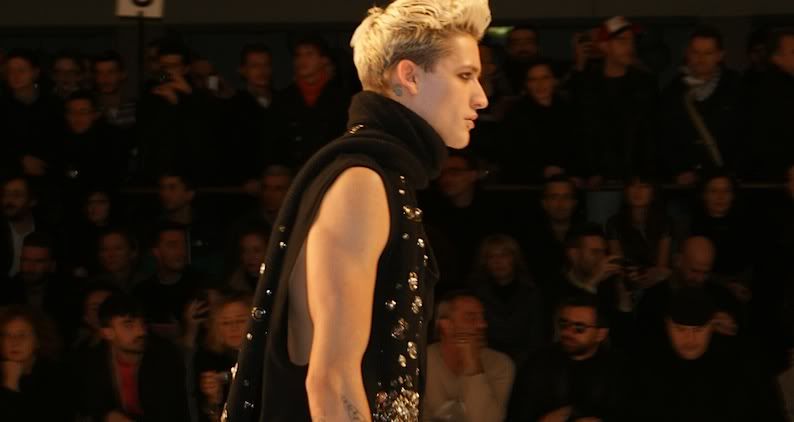 The first part of the show was in dark tones like grey or black but always full of details like silver brocades in shirts, sweaters and winks to colors in accessories like belts!
I really like the coat is wearing Sebastian in this photo! It looks very warm and perfect for next season! You need it right? haha
Also the metal details not are only in clothes! Accessories also have something to say here!
STUNNING RIGHT? also the shoes!!
I really like the mix of black with pins in combination with a cool suit! it makes the difference no? What do you think?
After some looks, the color started to appear in suits and special stuffs for head!
Take a look to all the details like tribal prints hand-swen in orange tones! They are super cool, I need that shirt!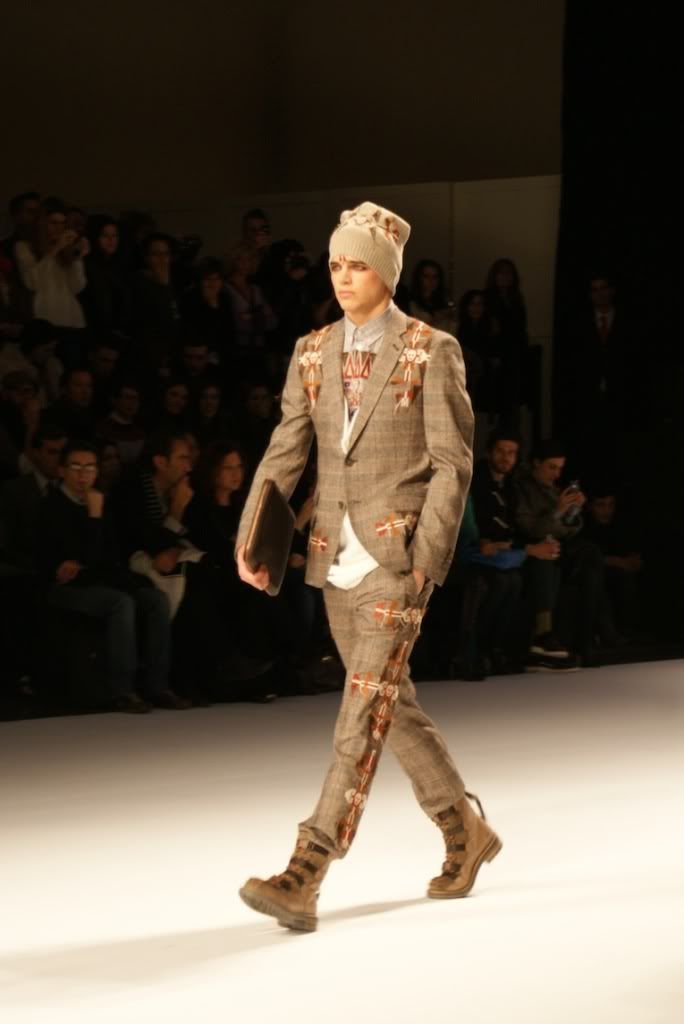 Another accessorie I'm starting to like a lot are hats and whatever in this way haha! Shoes, now hats.. what will be the next? Who knows!!
Check the big sweater is wearing Sebastian in the next photo. Im an addicted of sweater so this one would be perfect for me, and for you?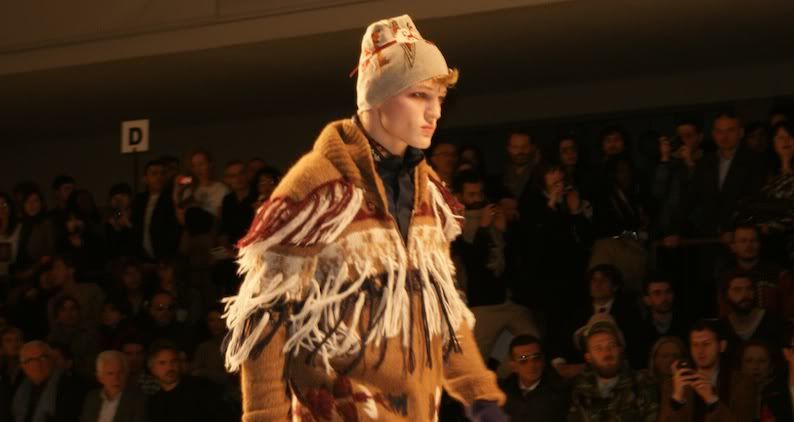 In the collection, Frankie Morello also made lot of details in color pins and have made some outfits in a beautiful red tone.
I really like this color and for Fall/Winter is perfect for breaking the black trend in the general outfit of people!
I have to say, I'm one of those in dark tones during cold months haha but I really like discover people wearing color pieces!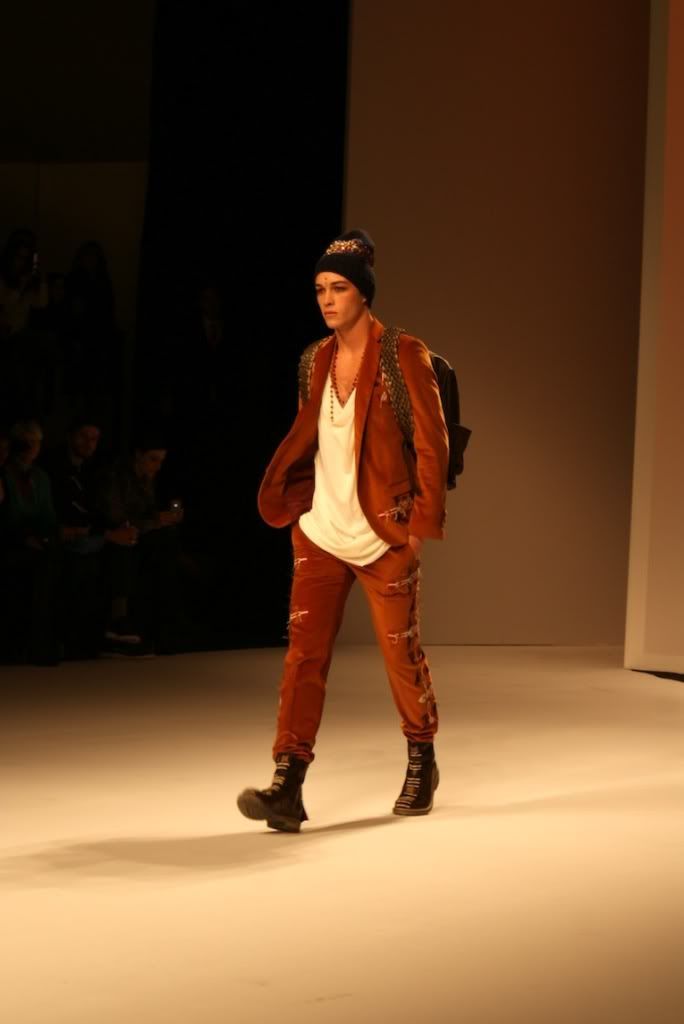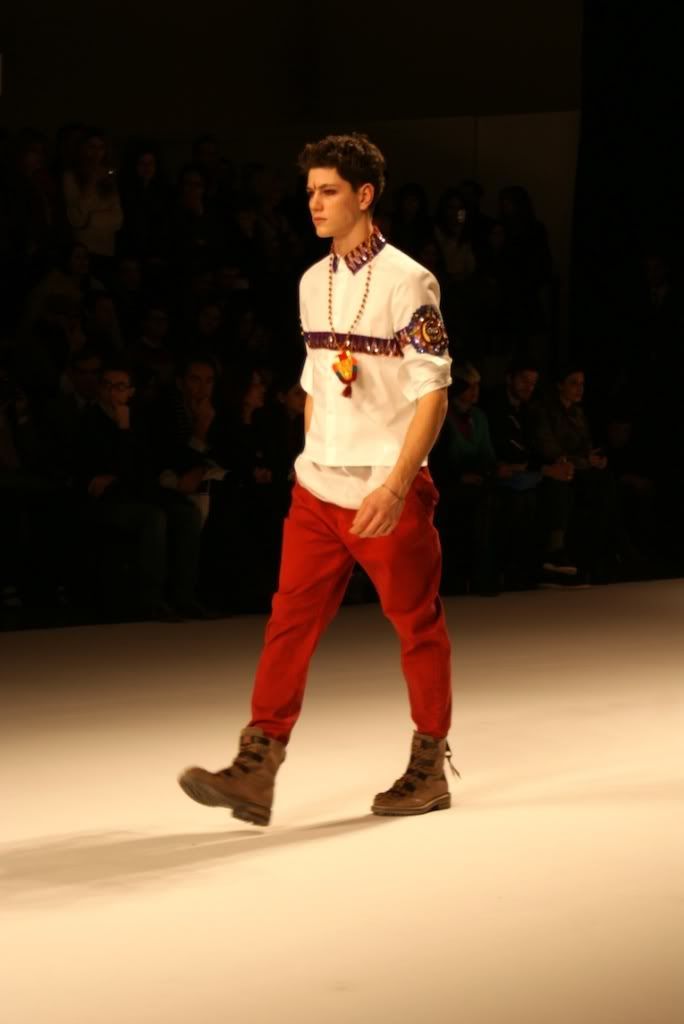 Look at the brocades in the last shirt! so beautiful the mix of colors with the nuclear white right? The neck part is my favorite! love it!!
What do you think about this mix? and the red trousers?
I really like the collection, is very Frankie Morello and the show as usual was perfect.
I think is very important transmit the passion they have and they put in the creation of each piece at the show because you can taste his art and they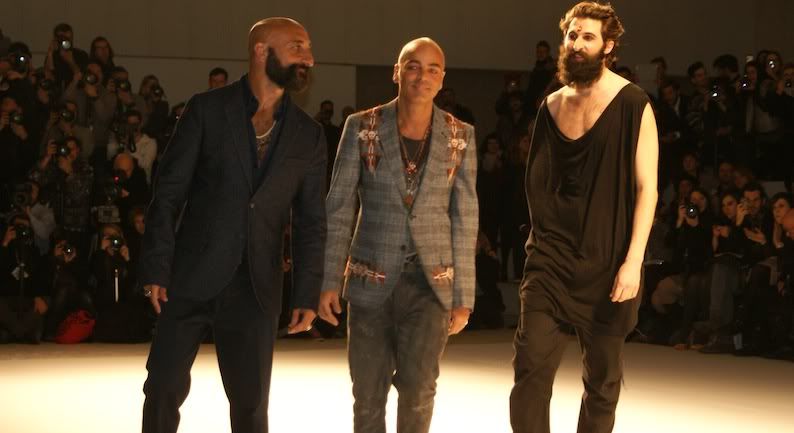 made it again and made us feel what both feel when they are introducing their proposals!
What do you think about Frankie Morello?
What is your favorite piece from the collection?
THANKS a lot to all the Frankie Morello team! looking forward being there again and make lot of things with you!
Sorry to everyone if I wasn't able to being here as usual. I didn't have time but here I am :)
THANKS!
David Martin
sBt