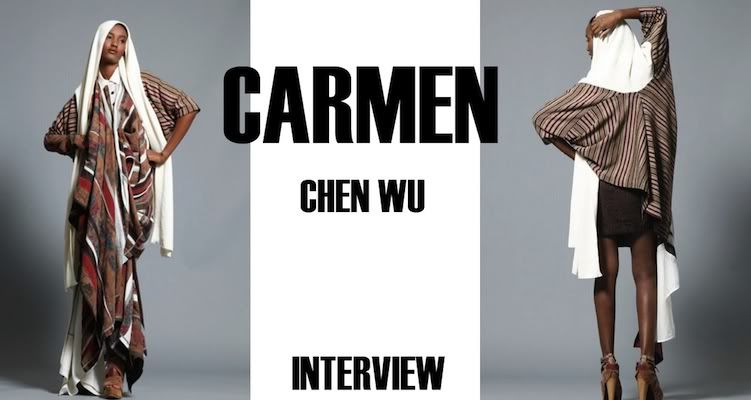 She is a new amazing designer born in Parsons last year with a beautiful ethnic vision for her thesis collection.
I remember when I saw the photos of the collection I felt in love with this special way because of the different it was in the runway and the taste she put in each garment.
Do you want to know why or how she make this thesis collection?
Carmen Chen Wu is here for answer you:
sBt
-

Young, passionate and someone who finds what you want. Tell me, how was the time when you understood fashion would be your life?
CCW-
I had a penchant for female beauty since I was very young. As a child I loved to draw and I always drew the same thing: goddesses and mermaids. I was always trying to figure out beauty and I explored and documented it through my pencil. Honestly, I had very little clue about fashion before I went to Central Saint Martins. I was an Economics major at Bryn Mawr College until I just couldn't take it anymore. I just wanted to create things. My teachers and peers at St.Martins were very inspirational. During that year I learned so much and I incubated my love for fashion design. After that year in London I knew what I was going to do for the rest of my life
.
sBt
-
Fashion Folio at Central Saint Martins was one of your steps to arrive exactly where you are right now. Tell me a little bit about your experience there. Why go to Parsons and not continue your studies at CSM?
CCW
-
St.Martins is a very competitive school. I didn't get into the womenswear program that year so I decided to go to New York where Parsons had already accepted me. My boyfriend was in New York too and I was very excited to come back and be with him. Parsons is a very different experience from St.Martins. One thing I can say is that Parsons definitely gives you a very well rounded education and teaches you to work VERY HARD. Slackers are kicked out of here very fast.
sBt
-
Your way to create, at least in your thesis, were the experiences you had throughout 2010. Tell me a little bit about some
of them.. I think China has something to say here no?
CCW
-
I'm inspired by everything around me. But fundamentally, I am inspired by people. I get obsessed with certain individuals and they are who mold my idea of my muse. For the past two years I have been obsessed with a beautiful woman who is a Buddhist. I always think of how she should be dressed when I am designing.
sBt
-
I really like the way and fabrics in your collection and I would like if you can define what did you feel when you saw your work done and finished after the hard work and effort.
CCW
-
I am very proud of what I have created. It really is like giving birth to a child. You carry the huge weight for nine months, it's uncomfortable and you sweat and work hard at it, and then boom! It is born! And you show the world what you have created, and you cannot help not being proud because it is completely yours and you have put so much effort into it. Then you start thinking: "What's next?" It' a tough question, and I can't answer it until I have completed my next baby.
sBt
-
For sure these questions are going to be difficult but.. Which is your favorite piece over all of them in the collection? and why?
CCW
-
I love every single piece in my collection because I put a lot of love into every one when I was making them. If there is an piece that in general got the most praise is the shirt with the draped front. I agree that it's one of the strongest pieces in this collection
sBt
-
I'm sure NY is gonna love your art. That city is represented at the collection and the city know it, so, and now? What do you have in mind? What do you wanna do with your life?
CCW
-
There are so many things I want to do and New York is so exciting every single day. I've thought about painting and selling my work on a table in Union Square, writing a knitting book, children's book, or even making capsule collections that I would make myself in my apartment and sell it through my website! These are things that would make me happy at the moment, but my big dream is to be an entrepreneur and own my own label of clothing, so I'm going to focus on building my knowledge and skills to get there. That's what I want
Reading the interview you can taste she is happy and full of proud with her work and I think that is very important no?
About the collection you can see a pair of examples of this thesis at the main photo of the post but I want to show you more and more!!!
The beautiful details on head are special and very cool in my opinion. Always is amazing take inspiration from different cultures and that is AWESOME!
Also the mix of colors are beautiful and in a perfect tune with what she exactly had in mind.
Of course one of my favorite things are SHOES!
very cool ones right? also is interesting to check the cut of the most of pieces. I think perfect for summer.
New designers are the future and always is so beautiful to check the beginning of them and how is the develop year by year..
is like when you check your own photos 3 years ago and check the currently ones and discover how you have change.. haha
Here are more outfits of this collection
Which one is your favorite? Do you like the idea she wanted to express?
I'm in Paris right now for shows!! I'm enjoying a lot and impatience to show you what is happening here!!
THANKS A LOT!
David Martin
sBt