Start a project always is difficult and that means a lot of effort and hard work, but if your passion is big and you trust in the idea, everything is possible.
I spoke few weeks ago about a fabulous an different project called
IOU Project
, where clothes and fabrics have another way and are different than everything we known.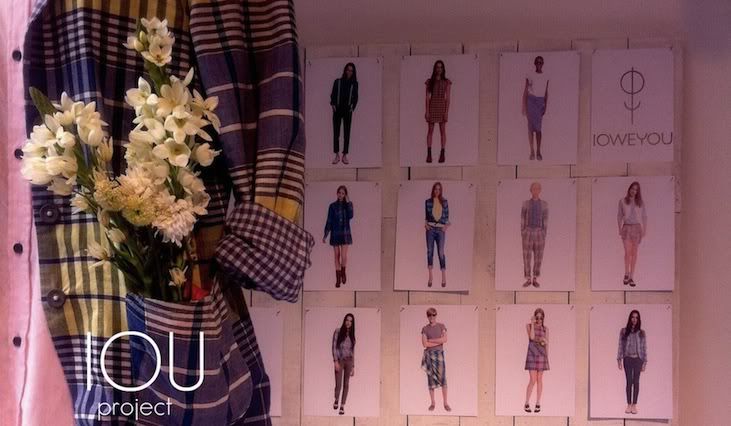 Last week they had the showroom open for all the people who wanted to see and taste the idea and of course the message that IOU wanna transmit us directly trough the clothes.
The place where IOU have their headquarters is something special and white. I really love it!
The line is full of color and details on the couture and cuts. I wanna highlight the shorts for women and shirts for men, I enjoyed looking them and discovering the good work and the fabulous ideas over all.
One of my favorite things at the presentation was see the sketches about the different clothes like shirt, pants and the details of why that color and no another. A fantastic sofa situated near the stairs, provided you the chance for looking all the collection and thinking.. what a good work done!
I think is exciting and beautiful look the people into IOU with that passion. In my opinion a great project, what do you think?
Speaking about projects, this is a SUCCESS in Europe..

Yes, D&G and Dress me up came to Madrid last week and they went crazy the gold mile during 3 hours.
I think all of you know this project and without doubt for bloggers, this is a great one. Collection by D&G, showcases and your vision.. What else do you want? :)
Love the James Dean t-shirt...!! I want it I need YOU, urgently! haha :) The last collection by Dolce & Gabbana for women was beautiful, full of white and for men my favorite is that one by D&G for next fall!
The event was fantastic, there I met with the Swide team and spoke about my Project ODDA with Sebastian Sauve and also about the night in Madrid haha. Yigit is so friendly also Paolo.
The Music was fabulous, and thanks to Samantha (DJ) Dress me up was even better, difficult but true.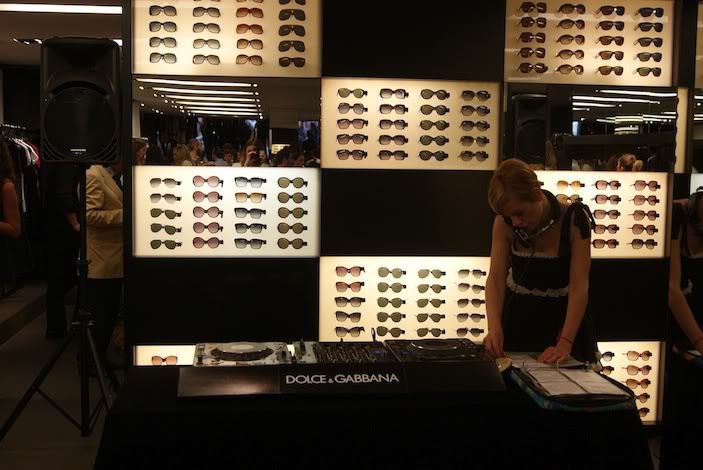 The day was in a warm weather and Cocktails by Martini D&G were perfect for have a nice conversation with my friends Luis, Cristina, Maria and also with Jana, she is fantastic!
The Parmesano was in all the places ( love parmesano) at the store, and I could't resist to take some pieces each time I saw the man who had the cheese on his possesion haha!!
Look at the trays with D&G logo.. FABULOUS!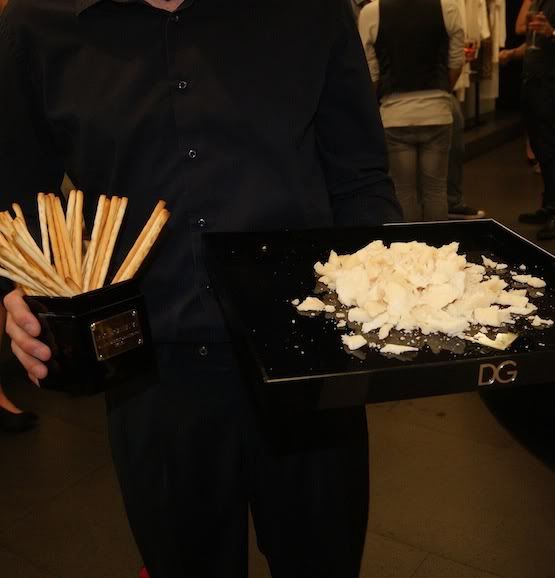 The 3rd and last project I wanna show you is a special line designed by the fabulous spanish designer Ana Locking, for Banco Santander for F1 World Championship.
The special line will be uniforms for hostess during the GP in Italy, Germany and UK.
The main idea was materialize what Santander had in mind trough the creativity of Ana Locking and make together a international view and chic.
The line consist in Jacket, dress and shoes made in napa leather and of course in red, like Banco Santander.
The product is a cosmopolitan women, modern and glamorous.
The thing that I wanna highlight is the Jacket.. Love those shoulders and I think the shape is fabulous! What do you think? Also the dress creates a fantastic silhouette for women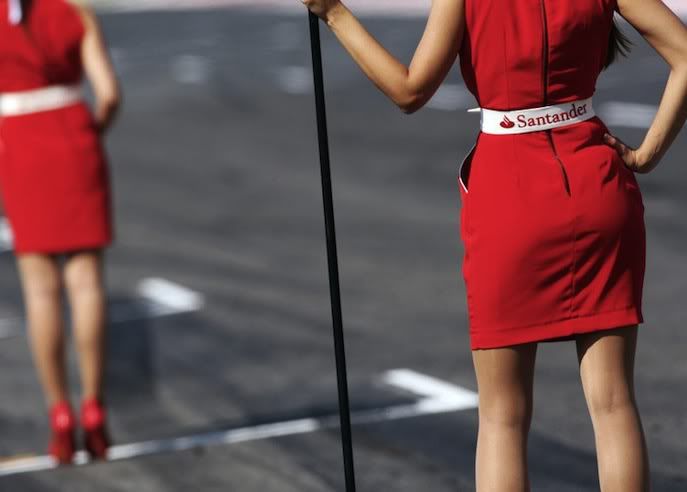 What do you think? Do you like the line for F1? Ana locking is spectacular, you can check her last show in Cibeles last september on the side in Fashion week Madrid!
Week is ending but weekend is coming!! what are you going to do people? Hows going the exams?
Let me know what do you think about the projects!
David Martin
sBt
Empezar un proyecto siempre es difícil y este significa muchisimo esfuerzo y un fuerte trabajo, pero si la pasión es grande y crees en la idea todo es posible.
Hable hace algunas semanas atrás sobre un fabuloso y diferente proyecto llamado IOU project, donde la ropa y las telas empleadas tienen otra forma y son diferentes de todo lo conocido.
La semana pasada tuvieron abierto el showroom para toda la gente que quiso captar de idea y por supuesto el mensaje de IOU a través de la ropa.
EL lugar donde IOU tiene sus oficinas centrales es algo estupendo y todo en blanco. Realmente me encanta!
La línea está llena de color y detalles en la forma de coser y los cortes. Quiero destacar los shorts para las chicas y las camisas para hombres. Disfrute mucho viendo y descubriendo un buen trabajo y las fabulosas ideas.
Una de mis cosas favoritas en la presentación fue ver los bocetos sobre las distintas prendas donde comprobar por qué un color y no otro...
Un sofá fantástico situado al lado de las escaleras, que te ofrecian la oportunidad de ver todas las prendas y pensar... QUE TRABAJO TAN BIEN HECHO.
D&G y Dress me up llegó a Madrid la semana pasada y vovlieron loca a la milla de oro durante 3 horas.
Creo que todos vosotros conocéis el proyectos y sin ninguna duda para los bloggers el mejor de todos. Colecciones de D&G, escaparates y tu visión..¿Quien da más? :)
Me fascina la camiseta de James Dean...! La quiero , te necesito!!!! jaja! La última colección de Dolce & Gabbana para la mujer fue preciosa, lleno de blanco y para hombre, mi favorita es la de D&G para otoño 2011.
El evento fue fantástico. Allí conocí al equipo de swide.com y estuvimos hablando de mi proyecto ODDA que hago con Sebastian Sauve y también sobre la noche madrileña jaja! Yigit es genial y Paolo también.
La música fue fantástica y gracias a Samantha la DJ que consiguió que la fiesta fuese mejor aún, por difícil que fuese.
El dia estaba con calor y los cocktails de Martini D&G fueorn perfectos para tener una buena conversación con mis amigos Luis, Cristina y Maria y también con Jana, ella es fantástica!
El Parmesano estaba en todas partes ( me encanta el parmesano) en la tienda y no pude resistirme a coger algunos de os cachitos cada vez que veía al chico que tenía el queso en posesión jaja. Mirar las bandejas con el logo de D&G.. Fabuloso!
Eñ 3ro y último proyecto que os quiero mostrar es una línea especial creada por una diseñadora española fabulosa, Ana Locking, para Banco Santander con motivo de el premio mundial de F1.
Esta línea especial serán los uniformes para las azafatas durante los grandes premios de Italia, Alemania y UK.
La idea principal fue materializar lo que Santander tenia en mente a través de la creatividad de Ana Locking y hacer juntos una visión internacional y un toque chic.
La linea consiste en una chaqueta, vestiod y zapatos hechos por piel de napa yclaro en rojo, como el Santander.
El resultado es una mujer cosmopolita, moderna y glamurosa. Quieor destacar una cosa que es la chaqueta. Me encantan los hombros y creo que la forma es perfecta. También el vestido, ya que hace una silueta super sexy a la mujer. ¿Que opináis?
¿Os gusta la formula 1? Ana Locking es espectacular y podéis ver su último desfile en Cibeles, en el lateral de mi blog en el apartado FW.
La semana se termina y llega el fin de semana!!!! ¿Que vais a hacer? ¿Como van los exámenes?
Decirme que opináis de los proyectos y MUCHISIMAS GRACIAS!!! :)