Everybody knows DIOR but..are you sure that you know the fashion house good or just the name and some dresses?
Today is 8th of june and as you can read in the tittle this number is the protagonist in the post. Today is the chosen day for present the new timepieces by DIOR imbued with the heritage of the couture hose, full of femininity and glamour.
The new line of timepieces are jewels of precision and refinement and also the line will be a MUST for you since the same time you touch one of them.
I have special love to this fashion house, and when the team showed me this I couldn't resist to show you why DIOR is today one of the best around the world in the industry.
I will try to tell you as better I can the history of Dior trough these timepieces.
If The Dior VIII was a DATE would be The 8th of october 1946, the day the Christian Dior Haute Couture house was created.
If the Dior VIII was a SILHOUETTE would be the Dior suit, with an impeccable structure, very cinched at the waist and and a architectural jacket.
and.. If Dior VIII was a SHAPE? It would be the pyramid, recalling an origami or a "cannage" pattern with invisible stitching and as you can see on the pictures, that shape is that used for develop the straps for timepieces.
The pyramids in an elegance black trace the difference and show us a bit of history on them
The dress you can see is from the haute Couture collection in 2007 and it was an inspiration too.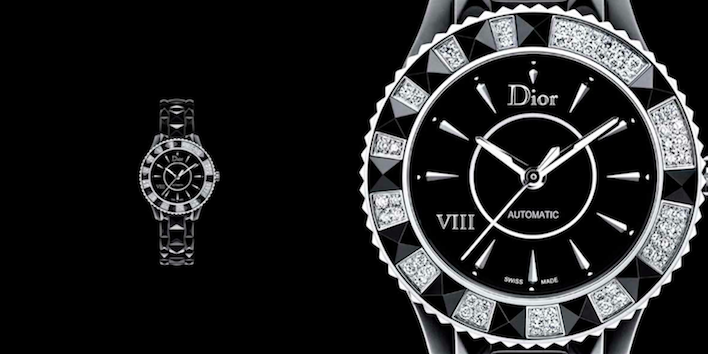 Also on the field you can see the pyramids on the side in silver like a wheel.
But the history of this giant fashion house not is just in the last dots...
If Dior VIII was a PLACE would be the VIII arrondissement of Paris and its famous Avenue Montaigne, headquarters of the Christian Dior house since 1947.
If Dior VIII was an ADRESS would be a very very spectacular site full of beauty in all the square... 8, Place Vêndome in Paris. The new showcase for the high jewellery creations.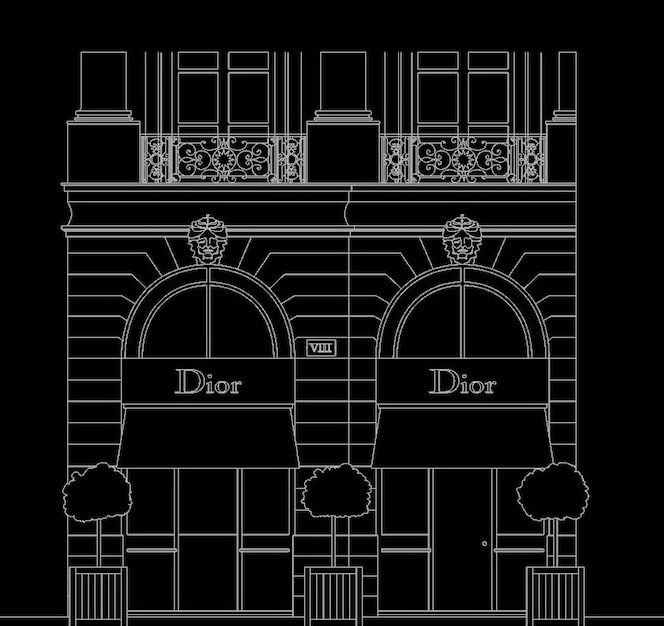 I really like the illustration of the Dior house at 8, Place Vêndome. It's very chic and beautiful.
Also here you can find the timepieces made by Dior in it's swiss ateliers.
Look at these pictures, where at the worker in the ateliers working for create one of these spectacular timepieces for DIOR VIII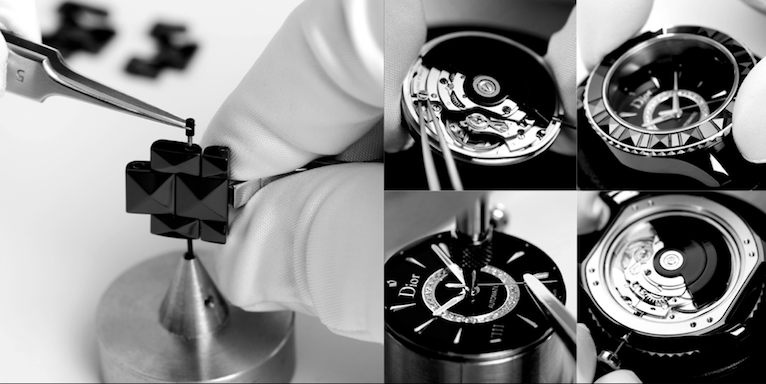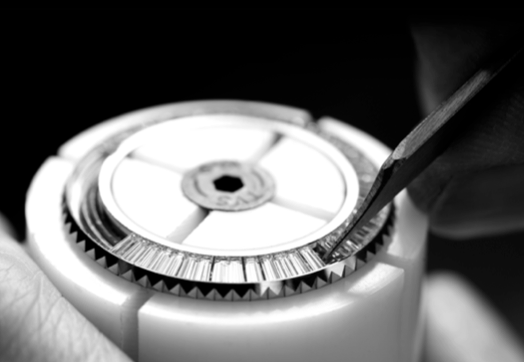 But Dior VIII is more than what you have read before. Also is very important to know which was the first Haute Couture collection by Monsieur Dior called "In eight" because the number 8 was his LUCKY NUMBER!
ALl the timepieces have something from the history of Christian Dior and that is amazing, because is different, original and also spectacular as you can know Monsieur Dior trough them.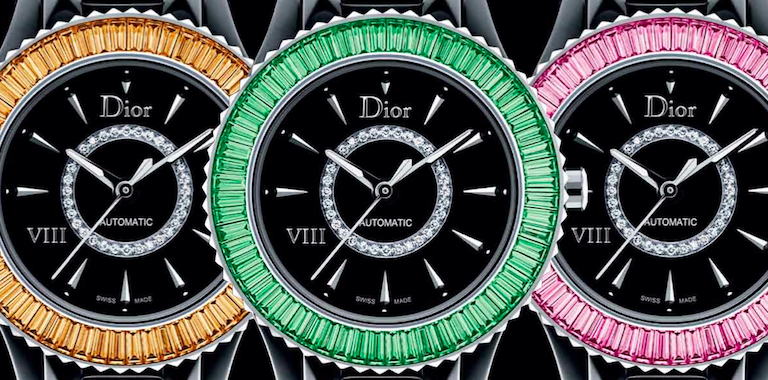 I really like the color on these timepieces and the details like a diamonds crown inside. The delicacy and glamour is on this collection Dior VIII.
My favorite ones, maybe are these ones on the last picture... and for you?
Let me know what do you think about the history of Christian Dior and the timepieces collection! Don't you think they are absolutely amazing?
Today is the presentation at 8 o'clock in Madrid, I will try to tell you a preview via Twitter and then here in a post!
Hope you week is going good and have a nice 8th day!
David Martin
sBt
Todo el mundo conoce DIOR pero ¿Estás seguro que conoces bien la Casa Dior o solo el nombre y algunos vestidos?
Hoy es día 8 de junio y como podéis ver en el titulo el numero 8 es el protagonista en este post. Hoy es el día escogido para presentar los nuevos relojes de DIOR impregnada de la herencia de la costura de la casa, repleto de feminidad y glamour.
La nueva línea de relojes son unas joyas de precisión y refinamiento y también una linea que será un MUST para ti desde el mismo momento que toques uno de ellos.
Tengo especial cariño con la Casa DIOR y cuando el equipo de Dior me mostró esto no pude resistirme a enseñaros por qué Dior es hoy uno de los mejores en todo el mundo de esta industria.
Intentaré contaros lo mejor que pueda la historia de Dior a través de estos relojes.
Si Dior VIII fuese una FECHA seria el 8 de octubre de 1946, el día que Christian Dior Alta Costura se creo.
Si Dior VIII fuese una SILUETA seria el traje de Dior, con una impecable figura, muy ceñido a la cintura y una chaqueta arquitectónica.
y.. si Dior VIII fuese un CORTE? Esta sería una pirámide, recordando a un Origami o un patrón "cannage" con una costura invisible y como puedes ver en las fotos, la forma es la usada para desarrollar las correas de los relojes.
Las piramides en un elegante negro traza la diferencia y nos muestra un poco sobre la historia en ellos.
EL vestido que podéis ver es de la colección de Alta Costura de 2007 y este fue una inspiración.
También en la esfera puedes ver pirámides en el lateral en color plata como una rueda.
Pero la historia sobre este gigante de la moda no esta solo en los anteriores puntos..
Si Dior VIII fuese un LUGAR seria el distrito VIII de Paris y su famosa Avenue Montaigne, donde Christian Dior tiene sus oficinas centrales desde 1947.
Si Dior VIII fuese una DIRECCIÓN sería un lugar espectacular repleto de belleza en toda la plaza.. 8, Place Vêndome en Paris. EL nuevo escaparate para la alta joyerí
a creada.
Realmente me fasina esta ilustración de la Casa Dior en la Place Vêndome. Es muy chic y bonito.
Aqui también podéis encontrar los relojes de Dior hechos en los talleres Suizos.
Mirar estas fotos donde los trabajadores de los talleres trabajan para crear uno de estos espectaculares relojes de Dior VIII.
Pero Dior VIII es mas aun de lo que habéis leído antes. También es muy importante para saber cual fue la primera colección de Alta Costura de Monsieur Dior llamada " En Ocho" ya que el numero 8 fue su numero de la suerte!
Todos los relojes tienen algo de la historia de Christian Dior y eso es estupendo, porque es diferente, original y también espectacular ya que puedes conocer a Monsieur Dior a través de ellos.
Me fascinan el color en estos relojes y los detalles como los diamantes en forma de corona en el interior. LA delicadeza y el glamour es en la colección de Dior VIII.
Mis favoritos son, quizás estos con las esfera de colores y para ti?
Contarme que pensáis sobre la historia de Christian Dior y los relojes de la colección. ¿No pensáis que son estupendos?
Hoy es la presentación en Madrid a las 8, e intentaré contaros cosas a través de Twitter y luego haré un post aquí :)
Espero que vaya yendo bien la semana y tener un gran día 8.