It's impossible to have everything in our closet, at least for the most number of people in the world, but that doesn't means we not can try to find and get what we want! I'm very impatience to see those things we can see on the previews for next a/w, I know, we are not still in summer but, you know..
IT'S FASHION
.
Right now, I wanna start with
Mint design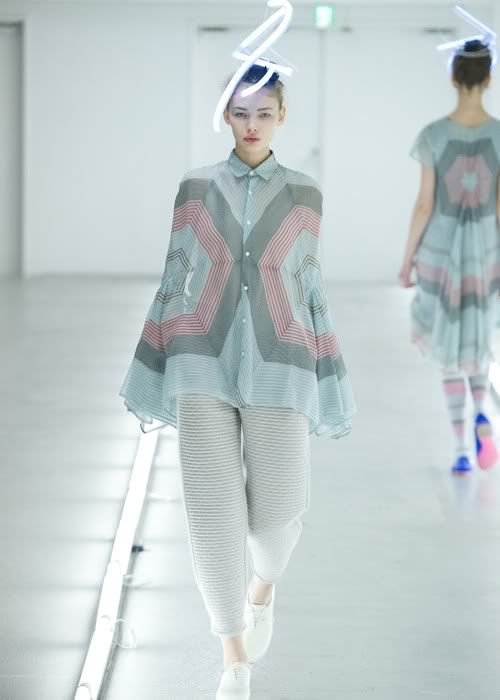 I'm impacted with the new collection presented in Japan for the details, and tissues used on the collection. What a pants wears the model. I really like them and I thought when I saw the line.. MUST HAVE!
Something to highlight over all in my opinion? Those shoes with fluor soles and electric colors! Love them! Also the hight socks. What do you think?
Speaking about shoes, and about fluor soles Jil Sander has something to say.
I know I showed on my blog everything by him but my love for the designer is big and my admiration more. For that, these flats can't being out of this post. I think you are gonna love it!
The super famous floral print by Jil Sander also is right now on these pumps, and I think they are the perfect combination with the orange bag and floral dress no? The pure colors and chic print makes seem these flats something glamorous and perfect for all the moments.
Lanvin just launch THE SANDALS for this summer, and they are very beautiful.
Metal

is the main material used on this creation and I think, perfect for make feel our feet the sand on the beach and the wind of summer all nights. They are perfect for women.. what do you think?
Metal, bright materials... I think I have something with these features to show you and maybe the most important accessory in 2011, at least since the beginning of the year..
Cambridge Satchel Company creates this spectacular bag and all the people want one of them! This time, the new one is in gold and I'm sure everybody wanna have it for this summer. I have to be honest, I like more the fluor models than this. What about you?
With a very very different style, but stunning and chic vision are these Gucci bags called Snaffle Big Bag.
A new line of handbags full of tradition but at the same time with innovation and new ideas on the materials and shapes.
I can see folk influences and craft. Love that one in a turquoise tone.. Which do you prefer?
I think he is the most different and extravagant designer right now, and this collaboration is very important because the other part is a bit classic.
Jeremy Scott with Longchamp.
Pills, pills and more pills is what Jeremy Scott print on the featured bag with Longchamp for their collaboration line. I admire the different vision of Jeremy and also the open mind by Longchamp with a collaboration like this. Is very big this bag and I think is gonna be a collector piece in some years.
The last bag I wanna show you are this one by United nude. I'm impacted with shape and material used on it.
Geometry it is behind all of this, and also I think this bag is perfect for women and also for men.
Leather and some details in relief are the unique details you can find on this creation. It seems like a american football ball!
Unisex, Unisex is what Kanye West in collaboration with M/M Paris and George Condo have created in scarfs.
These scarf are very very strange where a fantasy is printed over all of them. Silk is the material and it is a limited edition. For buy one, just enter in the M/M Paris website! The edition are just 100 pieces and the first half is on the website!
Pablo RuizGalán is a fantastic designer and I told you some things about him. One of my favorite things made by him are his t-shirts where the inspiration are some streets in Madrid.
That one with a yellow tone is very beautiful. The shape and cut is perfect for this summer also the material. If you wanna know more about the t-shirts:
www.ruizgalan.es
Come in into the men fashion world, I wanna show you this sunnies by Dior with a classic shape and vintage vision. The name?

GOLD
A limited edition where the aviator sunnies have a successor with this

Gold

perfect for summer. I really like the final detail on the sideburns
You know Loewe is one of my favorite brand and these accessories for next a/w are absolutely awesome.
The briefcases with those colors and the shoe in black suede are perfect. I dream with have one of those briefcase for my travels and never loose my millions of papers over my table haha. Do you like them?
To finish two things. The first one is the
Parsons 2011
graduates where I saw very interesting stuffs and hope future and very cool designers.
I have chosen 3 outfit by 3 different new designers. First one on the left by
Carmen Chen Wu
, next for men starring
River Viiperi
, the
T young Hwang
creation and down a very beautiful print by
Jovana Miraille
.
I confess my love for the work by
Carmen Chen Wu
. I think the inspirations and the fabrics on the creations are magnificent.
The second and last thing is exactly that...
The fabulous and professional Diane Pernet presents the call for present your project to

ASVOF IV

! What are you waiting for? It's a very cool and important choice to show your art!
Only another thing. A new Fashion social network has born. The name?

Lookbookstyle

and if you click in the name you can discover the best place for sharing your outfits, news and blogs! What are you waiting for?
Well, tell me what do you think about everything!! haha... Are you writing your list for going to shopping? hope yes!
How was your weekend? Mine good, but still a bit cold.. friday warm weather and saturday.. COLD! WHY? :(
David Martin
sBt
Como la entrada es inmensa jaja y poco os puedo traducir ya que lo veís por vosotros mismos, si no os importa, voy a destacar tan solo algunas cosas. La primera la colección de Mint design. ¿Os gusta lo que veis? A mi me fascinan las telas.
Las sandalias de Balmain, las bailarinas de Jil Sander, esos bolsos de Gucci!! Las gafas de Dior.. QUIERO TODO!
¿Que os parece los diseños que he puesto de la graduación de Parsons? Mi Favorito Carmen Chen wu!
Meteros en la web de Asvof y participar! Es una oportunidad genial!!
Y por cierto!!! DARLE AL LINK DE LOOKBOOKSTYLE y uniros! la nueva red social de moda está aqui!!! :D
¿Como va la semana? Besos y mil gracias la próxima la traducire completita